Language Teaching Methods at Parola School
Methodology That Follows The EU Educational Guidelines
Parola school follows the guidelines set down by the Council of Europe in 1971: the "Common European Framework of Reference for Languages (CEFR)".
Our institute uses these standards for language course training during its Italian courses in Florence. Therefore, our methodology is mainly divided into 2 phases:
A direct method that immerses the student in the Italian language through common daily situations 
A functional-notional method in which grammar instruction is central 
These language didactics allow the student to learn Italian grammar properly and proactively speak the language.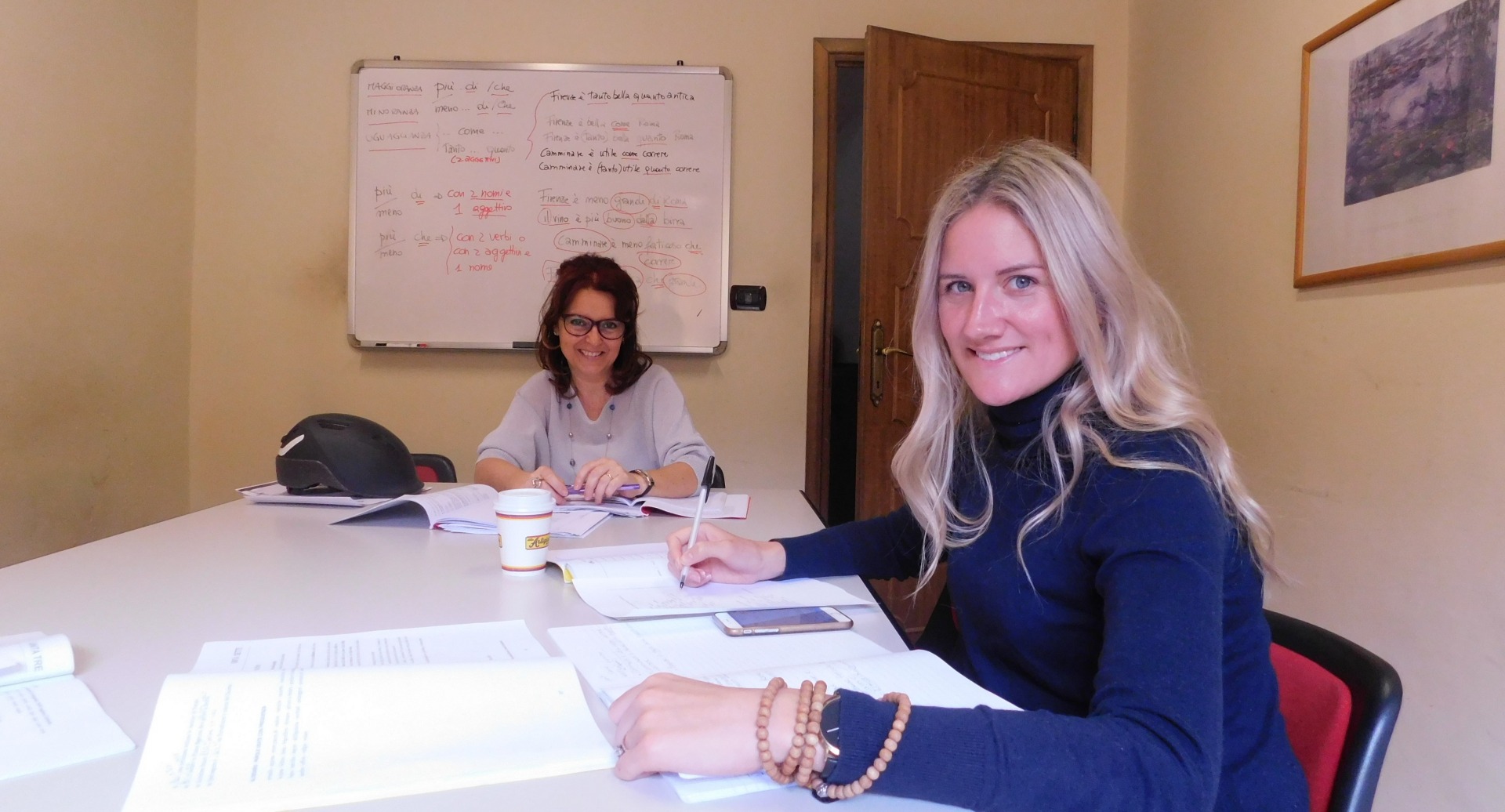 Two Learning Steps in The Italian Courses at The School Parola
The Italian language courses at the school Parola are divided into two learning phases, both covered during the morning lessons of Italian. These two learning steps are divided equally into each course to provide students with grammar rules and spoken Italian:
The first part of a course is about learning Italian grammar with our Parola grammar books: one book is for grammar and the other one is to practice it with exercises
The second part of an Italian language course is to achieve a good fluency of Italian through conversation practice. We use contemporary Italian topics, language activities such as stories, texts readings, newspapers, and games. We watch and analyze DVD movies or we listen, understand and discuss Italian music lyrics as well
Contact us to ask about our course methods at Parola Italian language institute in Florence.
Teaching Materials For The Italian Language Courses at Parola
Our teachers use extra didactic materials to enliven the Italian language lessons. These language tools are based according to all the studies of language training methodology that the school Parola provides to teachers:
Parola's Books (Grammar and exercises)
Social games
Audio and visual DVDs
Laptop and use of Internet
IPads and iPods for music
Music CDs and audio MP3
Movies with subtitles
All these tools are used to supplement the traditional Italian lessons in a classroom.
Structure of Parola's Italian Language Courses in Florence
An Italian class size at the school Parola ranges from a minimum of 4 to a maximum of 12 with an average of 6 – 7 students.
Naturally, the students of Italian are carefully screened as to their Italian language levels with a test at the beginning of their course.
We have diversified types of lessons: there are individual courses, combined courses (group+individual) and group courses.
Our school offers dedicated courses as well, such as the CILS certification preparation course (Our language school is officially accredited by the University of Siena), small class programs or Au Pair courses in Florence.
Small Classes For Individual Attention to The Student
Everybody gets individual attention. This allows each student to have the maximum amount of contact with the Italian language during the classes and individual attention to resolve doubts that they may encounter with the Italian grammar.
As mentioned above, the average number of students in a classroom is 6 – 7 students, and this allows teachers to follow students's progress in a profitable way.
On the first day of class, the student who is not an absolute beginner will take a short and light assessment test to be placed in the proper language level.
Qualified Italian Language Teachers at Parola
All our teachers are native Italian speakers and hold an advanced degree from an Italian university. Professional competence, openness, enthusiasm, and patience are our language teachers' key traits. This guarantees that the time spent in class will be both profitable and fun.
Contact Our Italian Language School in Florence
Contact us for further information about the teaching methods at our language school in Florence.
CONTACT US
Do you want some information?

   Send an e-mail to info@parola.it

   Call us at +39 055242182 or +39 328 8997420

  Meet us: Borgo Santa Croce, 4, 50122 Florence
FOLLOW US ON SOCIAL NETWORK
OUR CERTIFICATIONS



SCHOOL INFORMATION

ITALIAN GRAMMAR
FURTHER INFO