Parola. Italian Language School in Florence
Quality Italian Language Courses At Affordable Prices
Learning Italian is easy and enjoyable, thanks to the quality of our engaging Italian language courses in Florence.
Parola is an Italian language school in Florence that offers an interesting variety of language courses at reasonable prices that are taught year-round by experienced, professional, and friendly teachers.
Moreover, our Italian language institute is accredited by the University For Foreigners Of Siena (Università per Stranieri di Siena) for the CILS certification, the official Italian language certificate that is recognized worldwide for institutional and work purposes.
A Wide Choice of Courses to Learn Italian Flexibly
Our school is appreciated by all language students for its welcoming and friendly environment and its educational flexibility. Furthermore, our Italian language center offers a good variety of language learning programs through Italian language courses that are organized until late evening, both on-site and online.
Parola Italian language school provides students with a flexible course schedule and practices an effective teaching methodology designed to help students learn Italian and see results.
In addition to that, our school also offers specific methods for its online Italian courses in order to make remote language lessons engaging, enjoyable, and effective.
Learn Italian in Small Groups of Students
Parola school offers Italian language courses in small groups. Our classes hold no more than 12 students, with an average of 6 – 7 students per class, and no more than 5 participants for the remote Italian lessons.
Without a doubt, small classes allow students to understand, speak, and learn Italian with visible results.
Definitely, group Italian language courses with a limited amount of students make grammar learning easier, and conversation lessons more productive.
Moreover, our Italian language school offers combined Italian courses consisting of group Italian language classes with a small number of participants, which are then followed by one-on-one lessons in the afternoon.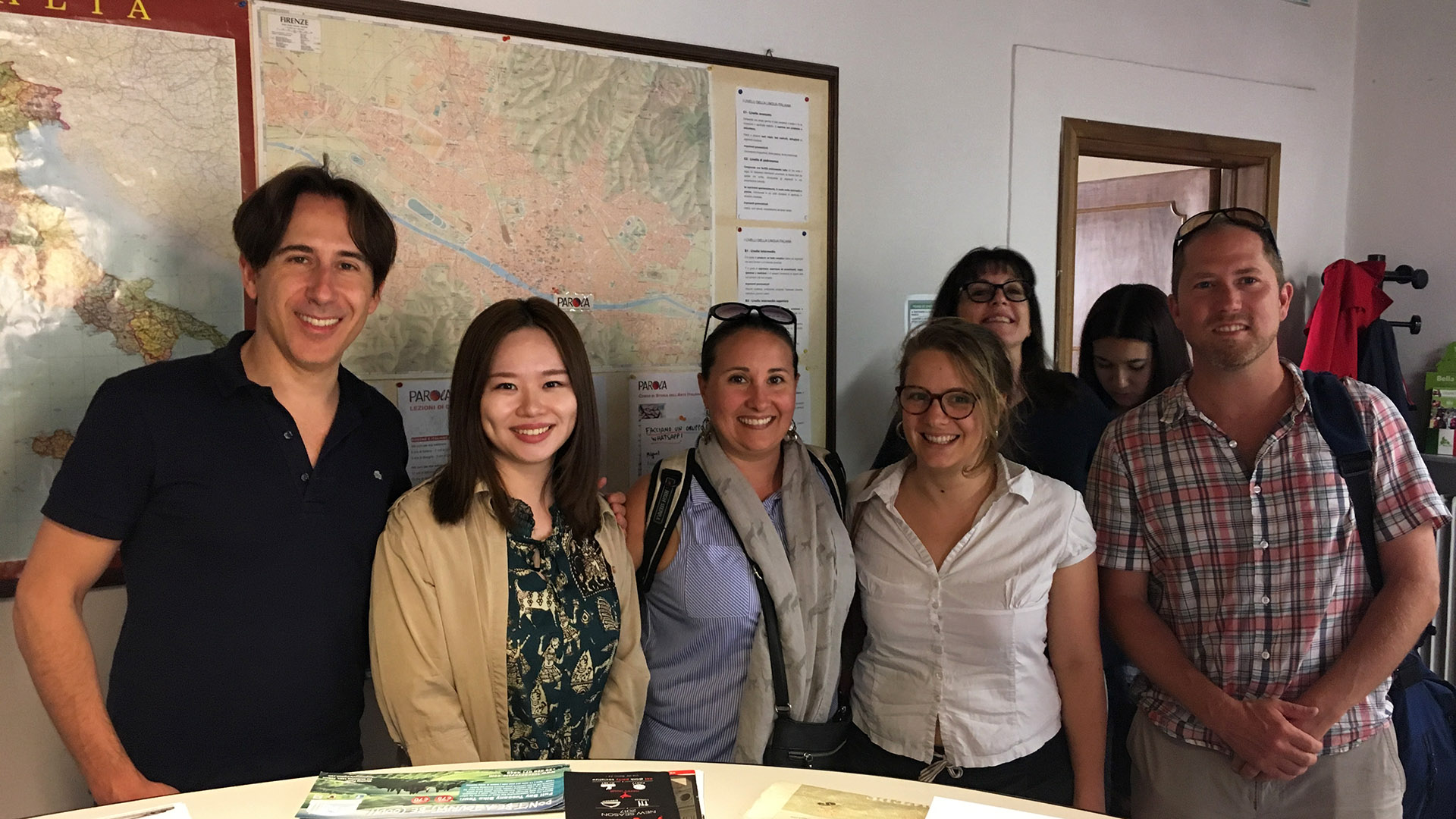 Expertise and Friendliness of Our Italian Language School
All of our language professors are native Italian speakers who have advanced degrees and are experienced in teaching the Italian language. Therefore, our language instructors provide their expertise and positive encouragement in order to guarantee a pleasant and rewarding language experience in Italy.
Very importantly, Parola Italian language school provides quality teaching in its Italian language courses and affordable course prices for all its students.
Learn Italian Online With Our Enjoyable And Engaging Courses
Study Italian from home with our engaging and quality remote language lessons. As a matter of fact, Parola school's online Italian courses are held by expert and friendly teachers who create an amicable atmosphere and offer lessons with rewarding results.
Most importantly, our school offers online Italian courses with remote one-on-one lessons or on stream group language classes (no more than 5 students per lesson), all year round, from Monday to Friday, with native teachers and affordable prices.
Continue learning Italian from home with us. Call +39 055 242182 or write to info@parola.it for further information on our online language programs.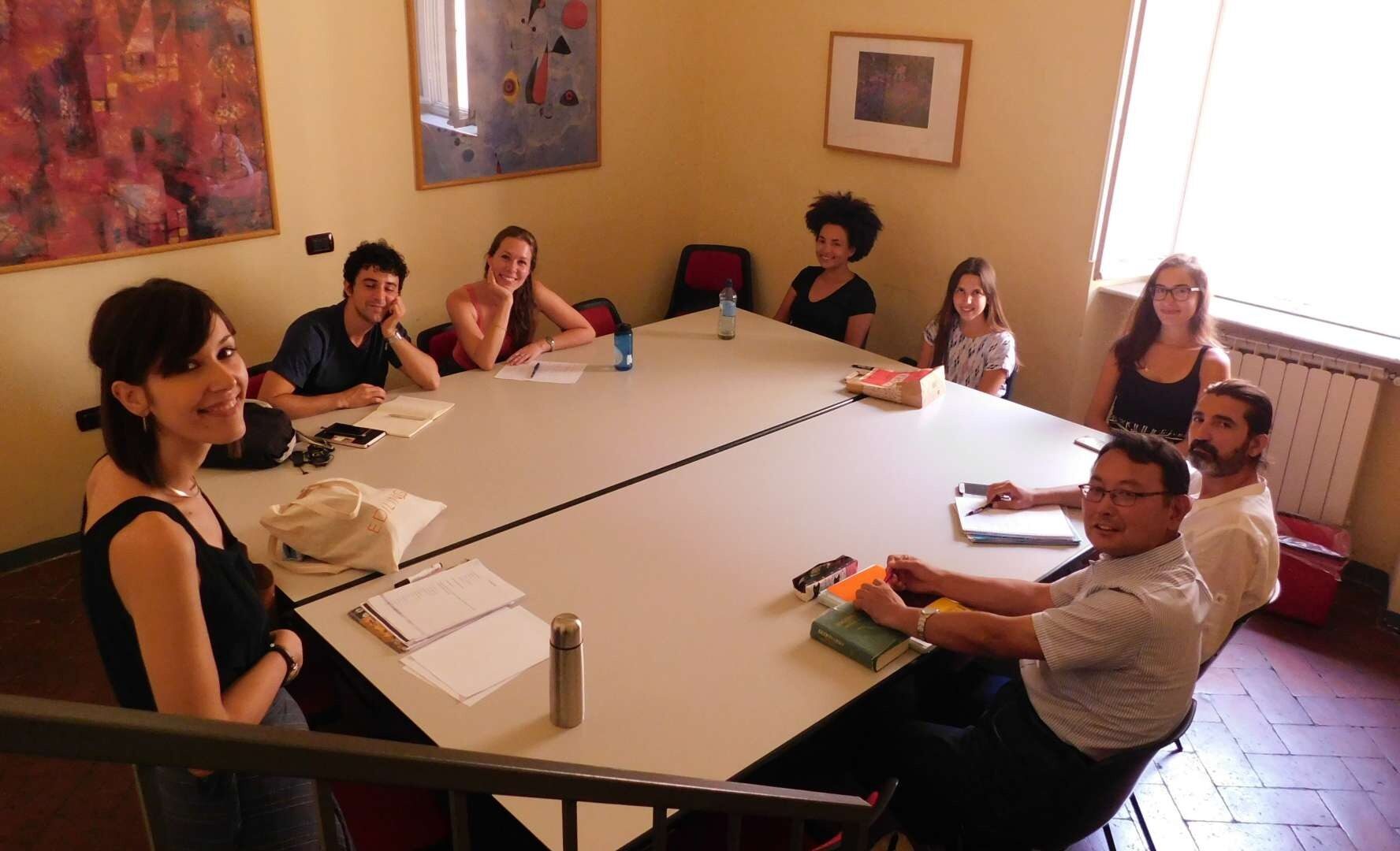 Evening Italian Language Courses And Extracurricular Lessons
In addition to its morning Italian lessons, our language center also offers evening Italian courses in Florence until 8:00 pm as an option for workers and students who can only learn Italian in the afternoon and evening.
Furthermore, it is also possible to take evening Italian language courses remotely. For further information, just contact Parola school.
Moreover, our Italian language school combines group classes with extracurricular lessons so that students can improve their Italian conversation competence and learn the Italian culture through our activities about Florence, Tuscany and Italy's society and history.
On-Site and Online Individual Italian Courses 
Parola school arranges individual Italian courses in Florence and online private Italian courses. Please note that our private language lessons at our headquarters are mainly held in the afternoon and in the evening, and they are always taught by one of our professional mother-tongue teachers.
As mentioned above, we also hold online Italian courses with the expertise and friendliness of our native teachers. Particularly, in the case of remote individual language lessons, Parola school can offer private tutoring from 9:00 am to 8:00 pm, from Monday to Friday, and all year round.
Learn the Italian Language in a Multicultural Environment
Parola school offers a broad selection of Italian language courses with quality language training.
Moreover, our Italian language classes in Florence provide a multicultural and diverse environment. Therefore, foreign students at Parola enjoy the hospitality, expertise, and friendliness that we offer in our school.
Located in a Historical District of Florence
Course participants enjoy the environment of Parola's language classes, which are held in a Renaissance building in the historic center of Florence (Borgo Santa Croce, 4 – 50122).
Our Italian language school is at a short distance from world-renowned monuments and important locations such as the Church of Santa Croce, the Uffizi, or Ponte Vecchio.
Authorized Examination Center For The CILS Certification in Italy

Parola Italian language school is an accredited CILS exam center in Italy. The CILS is an official certificate of the Italian language as a foreign language certified by the Università per Stranieri di Siena.
The CILS certification exam is taken, twice a year, at our headquarters in Florence in Borgo Santa Croce, 4.
Moreover, Parola Italian language institute also offers a preparation course for the CILS certificate in Florence to provide students with goal specific grammar tutoring to pass the examination.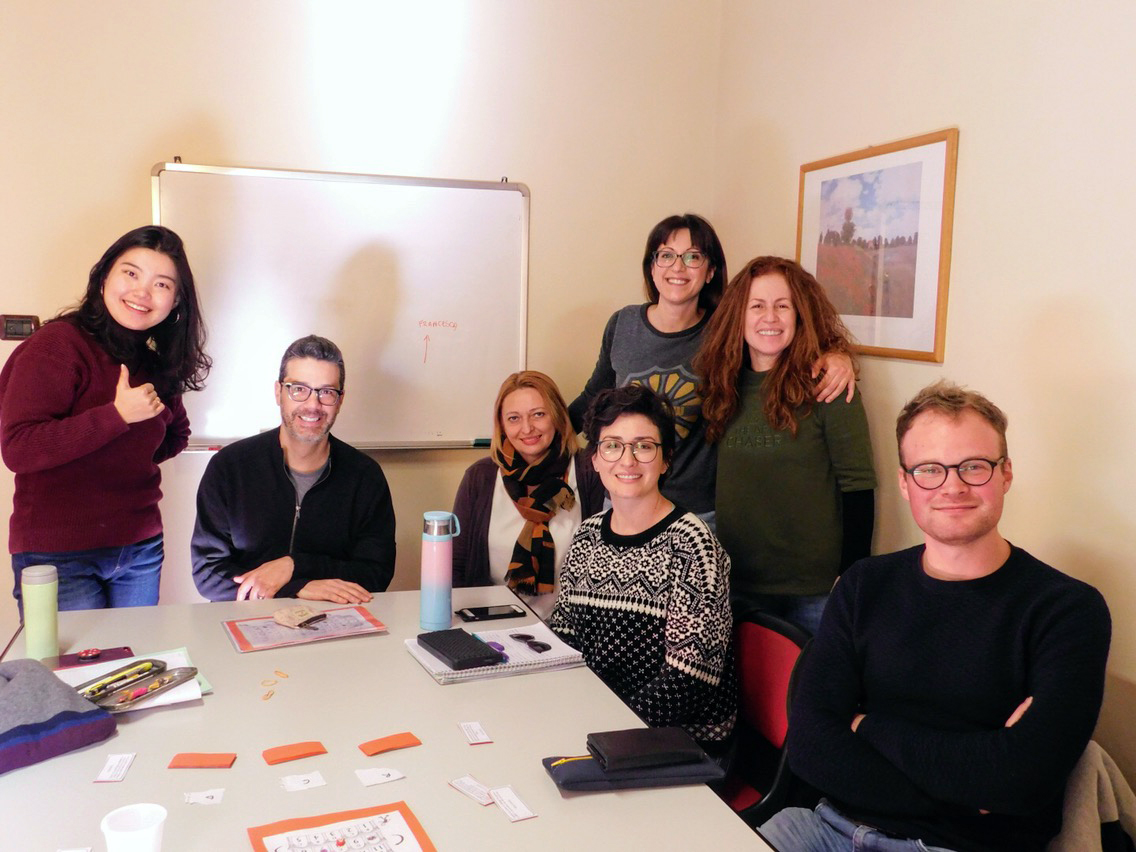 Teaching Methodology in Our Italian Language Courses
In Parola's Italian language courses, teachers utilize a comprehensive and flexible teaching methodology.
Most importantly, Italian language classes at our school are designed to allow students to socialize, interact, and work together as they learn Italian.
In short, our Italian language courses provide a rewarding and effective learning experience due to the combination of grammar and Italian conversation.
On the other hand, at Parola school, we also take advantage of using mass-media tools during our Italian language classes. And last but not least, our Italian language courses in Florence are proficiently taught with grammar and exercise books edited by our school.
Parola School Teachers' Experience With Online Italian Courses
Parola school's language teachers offer their great expertise for our online Italian courses. As a matter of fact, Parola's native Italian teachers have been holding on-stream lessons for some years.
Most importantly, we try to make our remote language lessons engaging and educationally rewarding through an appropriate online teaching methodology.
Request a Free Trial of One of Our Online Italian Courses
Please fill in the following form to request a free trial of one of Parola's online Italian lessons or to receive further information on our on-stream Italian courses.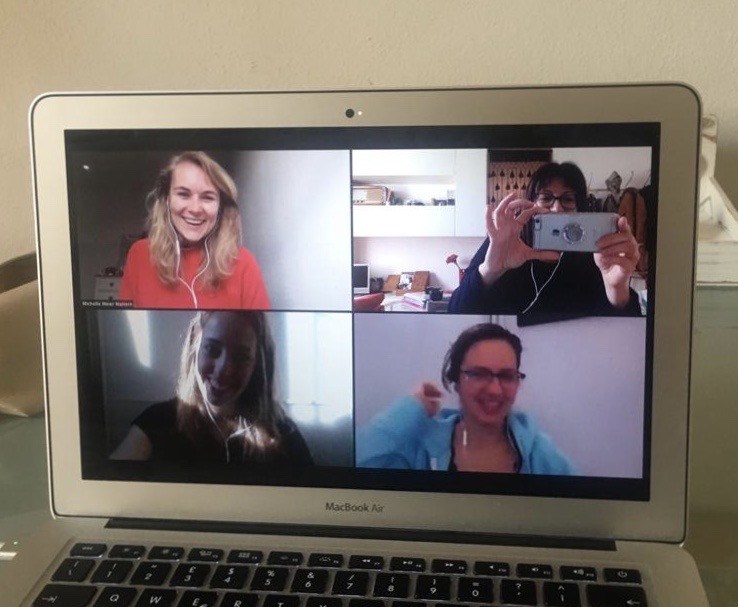 Full Coverage of Italian Language Grammar Levels
Parola school follows the rules of Italian language training set by the EU and offers the opportunity to learn Italian with a variety of Italian language courses at 6 language levels: Level A1, A2, B1, B2, C1, C2. 
According to these language learning guidelines, our Italian language institute enables students to understand and speak Italian from a basic to an advanced level.
In addition to its usual language lessons, for those students who want to get an official certificate of the Italian language, Parola can offer a course preparation for CILS and, as mentioned above, it is also a certified center to take the CILS exam at its headquarters in Florence.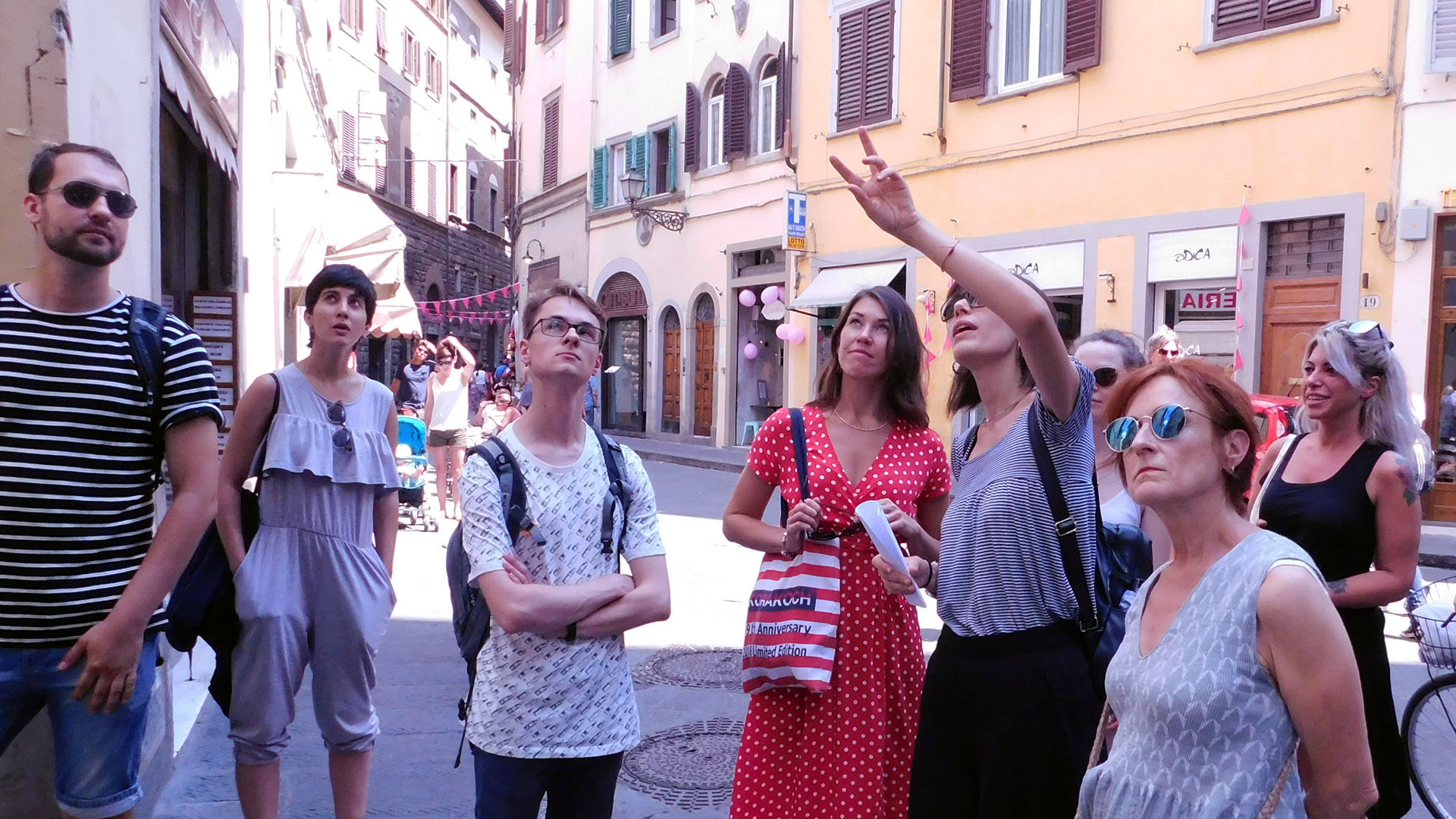 Free Time Activities in Florence And in Tuscany
Learning Italian at Parola school allows students to get to know Italy through educational excursions, presentations on Italy and formal Italian language classes. Our free time activities (offered after our Italian language training in Florence) include excursions, Italian movies, visits to artisan workshops and walking tours throughout Florence's artistic center.
Moreover, our language school organizes sightseeing excursions in Central Italy to expose language students to the artistic and cultural legacy of Italy.
In other words, Parola Italian language school in Florence encourages a social environment which increases the learning and comprehension of the Italian language while creating friendships and memorable experiences.
Extracurricular Classes And Supplementary Courses in Italian
In addition to its language programs, our Italian school provides students with after-school educational activities in Florence.
At Parola Italian language institute, we provide more than just language training. As a matter of fact, our language school also offers art lessons in Italian and Italian cooking courses; Italian language classes combined with Italian language, extracurricular classes, and free guided-learning activities in Florence.
These lessons can be accompanied by our Italian language instruction or taken separately as instructional courses.
Enroll in One of Our Italian Language Courses in Florence
If you are planning to enroll in one of our Italian language courses to learn Italian in the heart of Florence, you can register using our registration form. Our language school will promptly return your email.
After registering for your Italian language course, you must complete the course downpayment to finalize the enrollment with Parola school.
Contact Parola Italian Language School in Florence
Contact Parola Italian language school in Florence for further information about our Italian language courses, on-site and online, our individual Italian lessons and the variety of language classes offered at our school. 
You can also call our office in Florence directly at +39 055 242182 or at +39 328 8997420.

SCHOOL INFORMATION
MORE INFORMATION
FURTHER INFO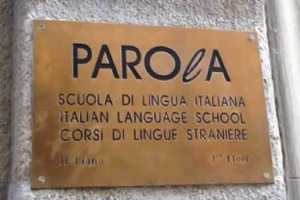 Don't miss the chance to learn Italian with our language courses. Parola is an Italian language school in Florence that mainly offers 3 types of learning programs: group Italian language classes, private Italian language lessons and a series of combined programs of Italian (group plus private) with experienced and friendly teachers.
Our Italian language institute is able to provide stimulating yet entertaining and fun language lessons in the heart of Florence for the study of both written and verbal Italian in Italy.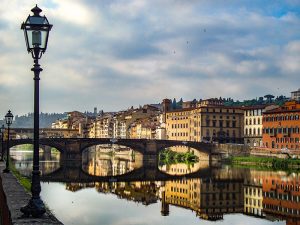 Our language school is centrally located in a XVI building designed by Giorgio Vasari (the architect of the Uffizi Gallery).
Parola school is around all of the most important art and cultural attractions of Florence such as the Uffizi Gallery, Ponte Vecchio, the Santa Croce Church and Piazza Della Signoria.
Moreover, our language center is situated in one of the most lively areas of Florence. Around Parola Italian language school, students can socialize with Italians and other foreign students, thanks to excellent coffee shops and restaurants.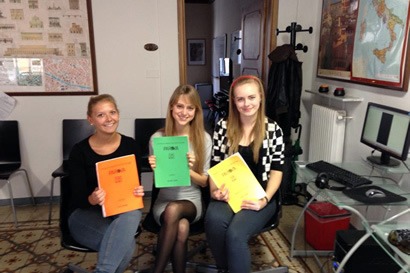 Learn Italian flexibly through our language courses.
Parola's students can have a lot of learning flexibility because our language institute offers morning, afternoon and evening courses in the historic center of Florence until late afternoon.
Our Italian language school for foreigners, together with its standard courses, holds specialized language classes, such as Italian language courses for Au Pairs, Italian language and cooking lessons, Italian language, and painting courses.
Moreover, our language center is particularly renowned for individual language lessons for workers and university students in Tuscany.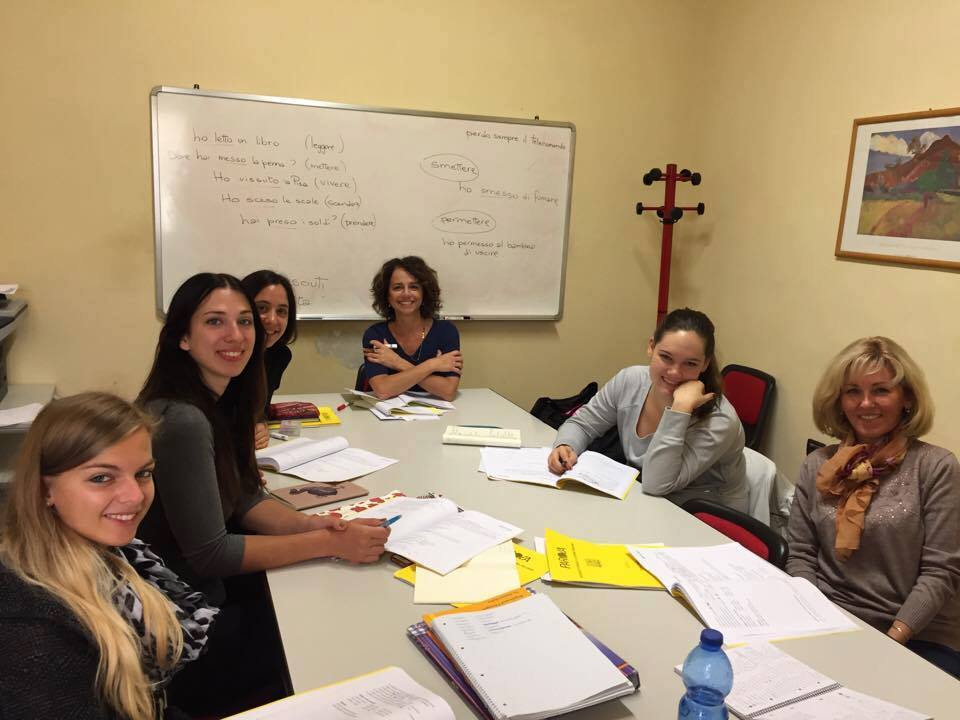 Parola Italian language school offers language courses with a maximum of 12 students, which allows teachers to completely monitor the students learning progress.
Moreover, our Italian language courses have homogeneous classes from the grammatical point of view. In fact, the students take an assessment test before being placed in the language class, which is then evaluated by our teachers.