Most Frequently Asked Questions to Parola School
FAQ's to Our Italian Language School in Florence
The most common questions to Parola Italian language school are often about our classroom environments, our education program, or the average number of students in a class, as well as our free time activities and Wi-Fi available in our accommodations.
Our prospective students also inquire about our daily class schedules, teaching methods, and Italian conversation levels.
Other frequently asked questions are also centered around our supplementary courses regarding Italian culture and the great Florentine history and art.
What is Included in the Price of an Italian Language Course?
The cost of each Italian language course at Parola school includes the following:  
Parola's certified instructors have written original grammar and exercise books
Official Certificate of Completion
Social activities in Florence with Parola's teachers and fellow students free of charge
Supplementary indoor classes such as Italian history, geography, or cooking free of charge
Use of free Wi-Fi connection and computer stations at our school
Air-conditioned classrooms
Italian DVD's, books, and handouts for the program of study
Optional housing service for Parola students during their stay in Florence
Special discounts at several local restaurants and coffee shops in Florence
Is Parola School Located in the Center of Florence?
Parola Italian language school is located in the heart of Florence. We are one block away from Piazza Santa Croce, and two blocks from the Uffizi, Ponte Vecchio and Piazza Della Signoria.
Our Italian language center is located a short distance from all of the most popular museums, art sites, restaurants, and bars in Florence.
Adresse
Borgo Santa Croce, 17 – 50122 Firenze – Italia
How Many Students Are There in Each Language Class?
Each course has a maximum of 12 students, following the European Union For Language Competence rules.
Our group classes can be activated with only 2 students, and their average is usually 6 – 7 students.
Instead, our online Italian lessons have no more than 5 students with an average of 2 – 3 participants.
Will Everyone in my Class Speak English?
Parola is home to a variety of students from all over the world. Our school tries to use 10O% Italian in its Italian language courses. On some occasions, though, our language tutors have to speak in English at the complete beginners' level to clarify some grammar rules (especially in the first week).
Anyway, our teachers avoid (whenever possible) using English during their classes.
In general, the students enrolled in our Italian language school include the following nationalities:
25% American, British, Australian, or other native English speakers
20% Spanish
15% German
10% Chinese
10% Brazilian
15% Other
5% Turkish
Is There a Break For Classes That Last Longer Than an Hour?
Each teaching hour lasts 55 minutes. Our 4 hours of lessons in the morning will include a 20-minute break from 10:50 am to 11:10 am. 
What is The Daily Class Schedule at Parola Italian School?
Parola Italian language school opens at 8:30 am and closes at 6:30 pm, Monday through Friday.
Our Italian language courses are held during the following hours:
9:00 am – 10:50 am- Italian grammar
11:10 am – 1:00 pm- Italian conversation
There is a break between 10:50 am and 11:10 am
In the afternoon, our school mainly holds individual Italian language lessons or dedicated small group Italian classes.
When Does Parola Offer Individual Italian Lessons And How Long Does Each Lesson Last?
Our Individual Italian language courses are held in the morning (9:00 – 1:00 pm) or in the afternoon after 2 pm. A one-on-one lesson at Parola lasts 60 minutes.
Times of the individual language courses at our language center are flexible in order to meet students' scheduling needs.
Contact us for further information about our private language courses.
What is The Best Time-of-Year to Take an Italian Language Course?
Florence is home to students all year-round. Anyone interested in studying when the city is less-crowded should enroll between the months of November and February.
It is a little bit damp and cold but it is worth it since students can fully enjoy the city, its museums and churches without large crowds. 
What is The Climate Like in Florence?
The weather in Florence is usually perceived as a Mediterranean one, however, the city may experience hot and humid summers followed by rainy and damp winters.
How Many Grammar Levels Are Available at Parola School?
We provide 6 grammar levels plus the CILS preparation course, as outlined by the Italian Board of Education and the University of Siena.
What is Involved in The Conversation Classes?
Students are encouraged to independently utilize Italian books, DVD's, Youtube videos and movies, as well as internet to improve their Italian.  These tools are also used during the conversation courses at Parola school.
Lessons focus on question-and-answer exercises to help students comprehend and practice speaking in Italian. Depending on the level, the topics of conversation vary from standard language situations (bars, restaurants, and directions) to politics, daily news,  and literature (upper levels).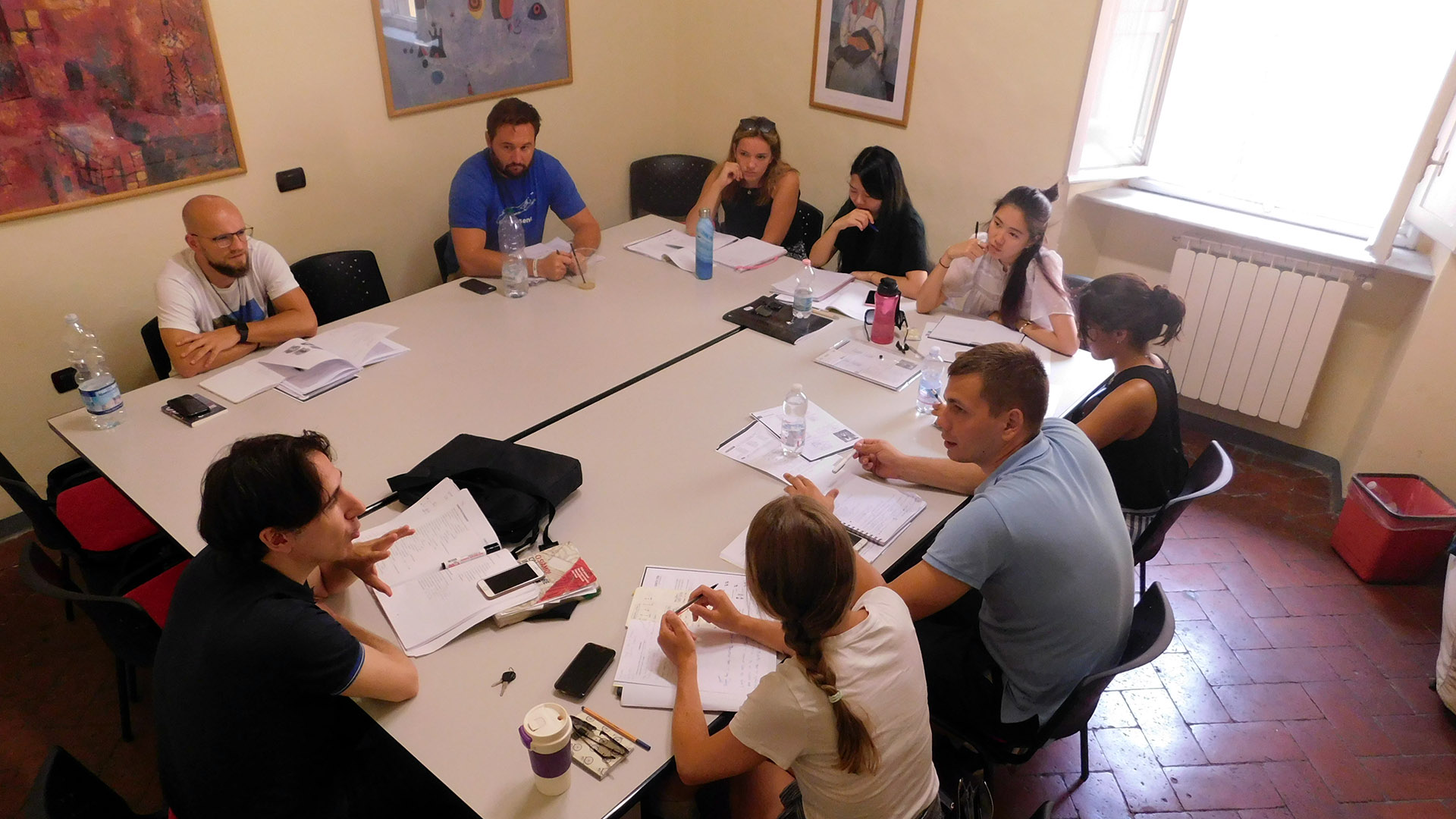 Do Parola Students Get Discounts at Local Establishments?
Parola school has agreements with some bars and restaurants in which students receive special discounts for lunch time.
Which Courses Are The Most Popular at Parola School?
During the summer season, the most popular Italian language courses include:
Allegro – 4 hours a day, Monday-Friday
Andante – 2 hours a day, Monday-Friday
Allegretto – 4 hours a day (Monday-Friday), plus a one-hour private lesson 3 times a week
During the winter season:
Allegro – 4 hours a day, Monday-Friday
Andante – 2 hours a day, Monday-Friday
Tre Volte Plus – 4 hours a day, 3 times per week
Tre Volte – 2 hours a day, 3 times per week
Alla Pari – Au Pair course held 3 times a week for 2 hours each lesson
Regarding individual courses in the morning, the Maestoso Italian language course (4 hours a day) is the most popular choice among Parola students.
See our Italian language courses in Florence for further information.
Does Parola Offer Evening Language Courses in Florence?
Our Italian language school offers evening Italian courses for individuals at €30 per hour. Evening lessons can be held until 8:00 pm and are very useful for professionals or working students.
Do You Have Conversation and Pronunciation Courses for Business Purposes?
Yes, Parola school offers conversation and Italian pronunciation courses that focus on business topics for executives, employees and any interested study-abroad students.
Contact Parola Italian School for Further Information
Contact us for further questions regarding our Italian language school in Florence.
CONTACT US
For more information, contact us here!

  Send us an e-mail to info@parola.it

  Call us at +39 055 242182 or +39 328 8997420

  Visit us in:
Borgo Santa Croce, 17
50122 Florence

INFORMATION
MORE INFORMATION
DISCOVER FLORENCE