Online Italian Teaching Methods at Parola School
Parola's Flexible And Versatile Online Italian Courses
Our online Italian courses are engaging and resourceful in order to learn the Italian language from low to high grammar levels in a pleasant and effective way.
As a matter of fact, on stream Italian language courses, through a proper methodology, offer a good opportunity to learn the Italian grammar and improve spoken Italian effectively. 
In this respect, our native teachers have gained experience in online Italian teaching, and by reading how their lessons take place on a daily basis in the following paragraphs, you will understand how they usually organize and give their online Italian lessons from their homes in Florence.
How Our Online Italian Courses Are Developed
All our Italian language teachers have their own specific methodology for their online Italian courses, which anyway tends to make lessons lighter and more versatile than those on site but equally effective from the didactic point of view.
Here are some testimonials of the on stream teaching methods of Parola's native teachers:
I start my lesson by asking how they are and if they have anything to tell me about their day. If they have recently cooked something special, watched a movie or read something special.
Homework is then corrected and new topics are introduced with examples of mine to analyze and understand the rule. Or, if I have given material to read, first we start from that to talk about new things, and then I allow them to give examples.
It ends with a fun game that is usually linguistic and lexical. Where I take advantage of the fact of taking and showing or describing household objects.
Then, of course, every time I change according to the people in front of me, in fact, each class has its own characteristics. For example, unexpected lessons occur on idioms, or it happens to compare the traditions and habits of their country that revolutionize the didactic schedule.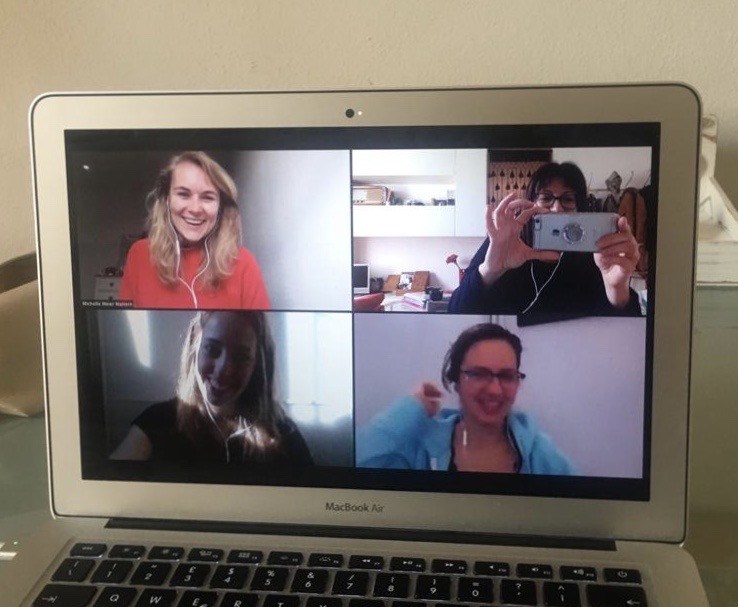 Online Students Get to Know Each Other Better
Our teachers hold their online Italian courses by combining grammar with the conversation: group lessons last 1 hour and 30 minutes.
To do this, they ask students to get to know each other better by introducing themselves and interacting in a laid back manner.
Teachers try to push them to face all the playful aspects of the online Italian lesson, and then start to deal with the grammar rules with a less stressful approach on the exercises:
I usually start with some conversation: about how they spend their days, what they have done and what they will do; we exchange ideas on how to pass the time and we make suggestions on which video to watch on YouTube for gymnastics, for example, or each one tries the video suggested by the other students (a kind of challenge).
Then we move on to grammar, correcting the exercises and tackling new topics. I also send him alternative exercises with WhatsApp or by e-mail.
For Easter, for example, I have proposed that each of them draw an Easter egg to wish him Happy Easter; then we would have voted the most beautiful and particular.
I also like to entrust him with projects to do together, outside the lesson, when the class can afford it, and of course if our Italian language students have the time and the desire to do it.
Enjoyable And Captivating Language Games to Learn Italian Online
Learning a language on stream implies a methodology full of games, linguistic choices, and focused on the expansion of the Italian language vocabulary, which is very important for the online student:
Normally I start the lesson by asking about them, about their days, and films or programs they have seen recently. And eventually, we always end up talking about food :-).
After correcting our homework, I also try to do some vocabulary, comprehension and written production exercises (which they then send me by email).
Sometimes I try to animate the lessons by making small games in which you have to guess a word or in which students have to give advice, or ask them to talk about something related to their country: cultural, social, linguistic and gastronomic differences in comparison to Italy; national holidays and typical social aspects.
In general, I try to alternate conversation and grammar and to make students use the tenses that we are studying. The basic idea is to make the different students know each other; although belonging to different countries and cultures, they share the passion for the Italian language and the desire to learn.
Contact Parola To Know More on Our Online Teaching Methods
For more information on Parola's online Italian courses and our distance teaching methodology, call us on +39 055 242182 or write to info@parola.it.
Take a Free Trial of One of Our Online Italian Courses

SCHOOL INFORMATION
MORE INFORMATION
FURTHER INFO