Learn Italian Online with Parola School
Study Italian From Home With Our Online Language Courses
If you want to take an Italian language course from your home, consider taking some online Italian lessons with Parola school through Skype, Zoom, or Hangouts.
Thanks to our language center, you will enjoy your on stream Italian language courses from the comfort of your stay at a reasonable price and with rewarding results.
Most importantly, our native Italian teachers, who have expertise with both online private tutoring and remote group Italian classes, will be able to offer you on stream language lessons with professionalism, friendliness and competence.
Enjoyable Online Italian Courses With a Small Group of Students
Parola Italian language school offers versatile online teaching methods since our language teachers hold on stream Italian lessons more flexibly and with less teaching time than the classic on-site courses in Florence in order to allow more effective learning.
Above all, our school is able to offer a professional and enjoyable online language tutoring in order to learn Italian grammar and practice Italian conversation engagingly.
In its remote Italian language courses, in particular, Parola holds classes with small groups (maximum of 5 students) to allow better attentiveness during the Italian lessons via the Internet and, as a consequence, better comprehension and learning of the Italian language.
Take a Free Trial of One of Our Online Italian Courses
Please, in case you are interested in taking a free trial, complete the assessment test to let us know your level.
Study Italian Online at a Reasonable Price With Native Teachers
As mentioned above, our online Italian language courses are held via Skype, Zoom, or Hangouts (Zoom or Hangouts are specifically used for online group Italian classes) and are offered at an affordable price.
In addition to that, our remote Italian language lessons are taught by Parola's Italian language teachers, who are all mother-tongue speakers with experience in teaching online Italian language courses all year round.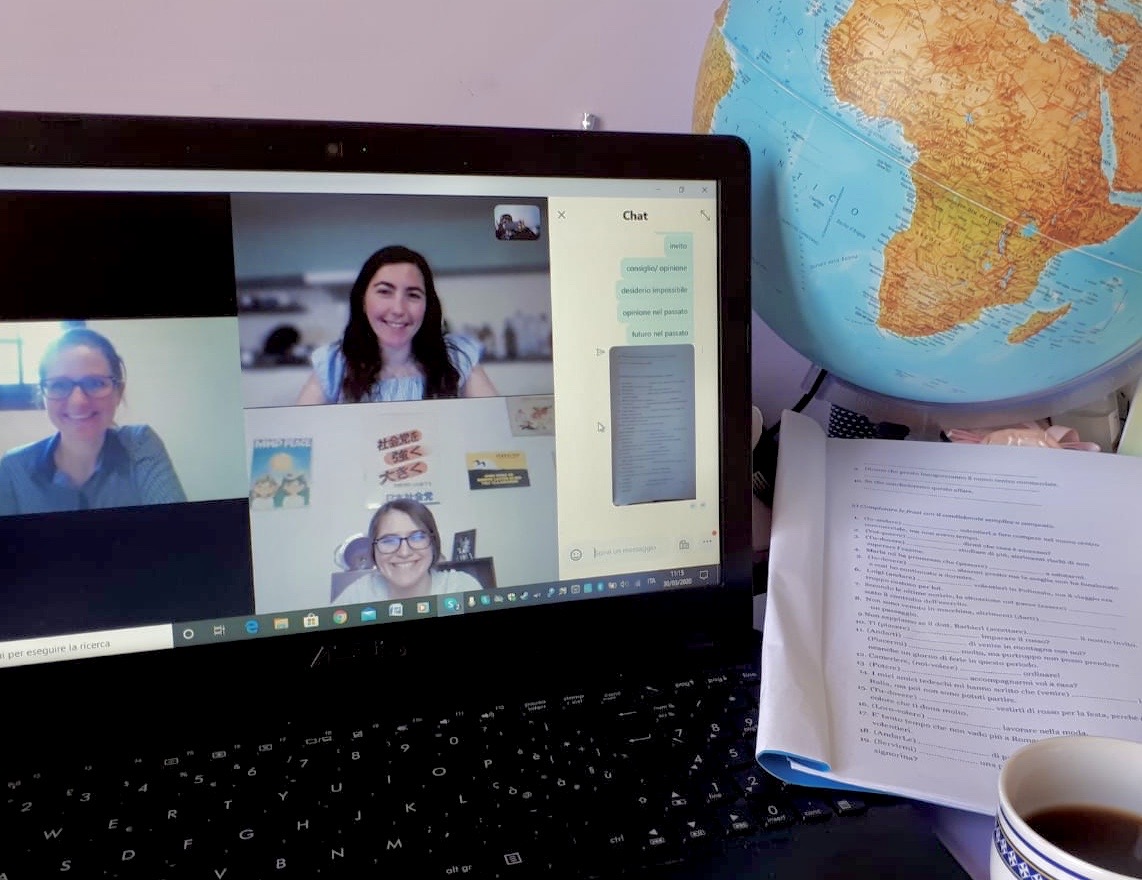 How Can I Take an Online Italian Course With Parola School?
Learning Italian online is easy with Parola Italian language school. In fact, once a student has downloaded Skype, Zoom, or Hangouts, the course can easily start.
An Italian language student or a group of language students can converse and learn Italian grammar remotely with fun and friendliness thanks to these on stream platforms and our expert native teachers.
Online CILS Preparation Lessons From Home
Parola Italian language school also offers an online preparation course for foreign students who need to proficiently learn Italian to pass the official CILS exam.
In particular, these on stream Italian language lessons are specifically based on the CILS trials and corrected via the Internet with video calls.
Contact us to receive further information about our online CILS preparation courses.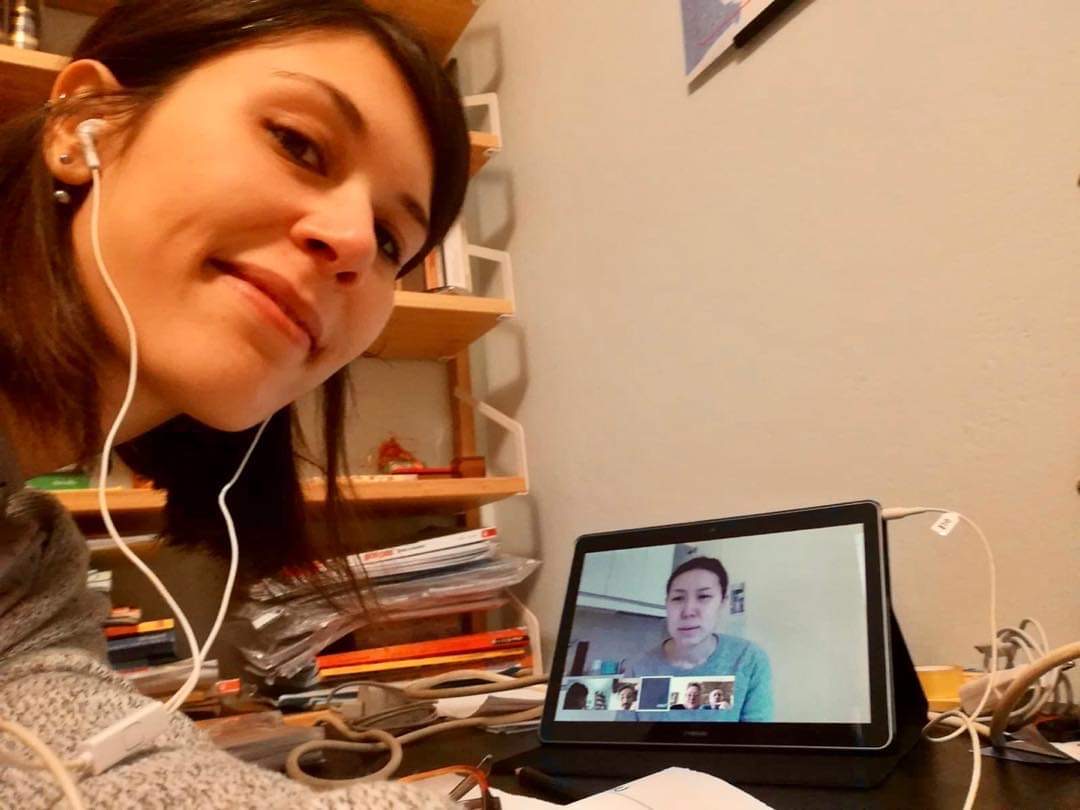 How to Begin Our Online Italian Language Courses
Starting an online Italian language course is easy:
The Italian language student can make an appointment (time and date) with one of our Italian language teachers by contacting us via email: info@parola.it 
During the appointment, one of our Italian language teachers will arrange the online Italian lesson with the student
After the course payment is made, the student can begin the online Italian language course according to the appointments arranged with Parola's teacher
Who Can Benefit From Our Online Italian Language Courses?
First, our online Italian courses are useful for students who are interested in learning Italian grammar and practicing the Italian language with a native teacher from the comfort of their home country.
Secondly, our online language lessons can also be useful for all those students who can not reach our school venue, and therefore, would like to take some distance Italian courses from their home.
Lastly, Parola's online Italian courses can also be very useful for business people who wish to achieve effective results from their home or office.
Prices of Our Online Group Italian Course
The fee for one online Italian language session of 1 hour and 30 minutes is 14 euros.
Please note that the minimum duration of our online group Italian course (maximum of 5 participants) is weekly, and the fee is 70 euros (5 days a week, from Monday to Friday).
Our standard on-stream group Italian course lasts up to the completion of a grammar level, which is approximately 4 weeks, but the course could also be attended for only 5 days if the student wanted to take a weekly trial.
Please note that the duration of the course can be renewed in order to complete another grammar level.
Our online group Italian courses are held with Google Hangouts Meet or Skype, and they are given by our expert native teachers.
Very importantly, our remote group language lessons have an affordable price.
Price For Individual Italian Language Courses Via Skype
The course fee for a private Skype lesson is 26 euros per hour (60 minutes). If the student buys a ten-hour package, there will be a discounted price on the language course:
package of 10 hours for 240 euro (15% discount)
package of 20 hours for 440 euro (20% discount)
Note that the duration and the frequency of the online one-on-one course can also be tailored to the student's needs.
Effective Results With Our Online Italian Language Courses
As mentioned above, our Italian language teachers have gained experience and flexibility throughout the years with online Italian courses.
As a consequence, a foreign language student can achieve the following results with our remote tutoring:
Improving grammar level with the use of Parola's edited books and our teacher's material
Learning Italian through enjoyable and fun lessons, more versatile than the onsite courses
Vocabulary improvement through the use of Microsoft Word, PDF documents and digital images
Increased ability to hold a conversation through spoken and visual communication
Support through various Multimedia devices such as YouTube, musical support, and videos
Ability to maintain Italian language fluency from home
Ability to focus on individual areas of language training with absolute flexibility
Look at the online prices of Parola's Italian language courses via the Internet. 
Read Parola Students' Reviews on Google or Facebook

Many of Parola's students are satisfied with their Italian language courses.
For this reason, we invite you to read our students' reviews on Google, which will also give you further information about our online lessons and our teachers' teaching methodology.
Otherwise, you can read our students' reviews on Facebook to learn more about Parola school as well.
Payment For Our Online Italian Language Courses
Parola Italian language school accepts payments via PayPal (Our desk will give you instructions in case you decide to pay this way) or via bank transfer at this address:
UNICREDIT BANCA
PAROLA SNC di Cioni Simone e Donati Gianluca

ABI: 02008 – CAB: 02817
Swift Code | BIC Code: UNCRITM1F15
IBAN Code: IT 63 F 02008 02817 000104964158
Find Us On Skype
Parola school's name to access Skype and learn Italian online is: ilcioni. 
Find Us On Google Hangouts
Parola school's email for Google Hangouts Meet: scuolaparola@gmail.com.
Important Note About The Online Signal
Please, note that it is essential that the student has a sufficient internet connection during the Skype, Zoom or Hangouts appointment.
Contact Parola Italian Language School to Learn Italian Online
For further information regarding our online Italian courses, please, contact Parola Italian language school or call us at +39 055 242182 or +39 328 8997420.
CONTACT US
Do you want some information?

  Send an e-mail to info@parola.it

  Call us at +39 055242182 or +39 328 8997420

  Meet us: Borgo Santa Croce, 4, 50122 Florence

SCHOOL INFORMATION
MORE INFORMATION
FURTHER INFO