Parola's Italian Language Courses in Florence
Learn Italian with Flexibility and a Wide Array of Courses
Please choose from the various Italian language courses that Parola school offers in the historic center of Florence or online.
Our students can pick from a wide variety of Italian language courses to fit their learning preferences ranging from group Italian classes to individual lessons up to combined programs (group plus private) and online tutoring.
Moreover, our language center offers Italian language courses to learn Italian in Florence with professionalism and competence across 6 grammar levels, from A1 to C2. 
4 Main Language Programs and Tailored Italian Lessons
Our Italian language offer consists of 4 main language programs: group Italian language courses, individual Italian language lessons, combined Italian language classes, and online Italian courses.
We also distinguish ourselves by giving our language students engaging and valuable tailor-made Italian lessons in Florence.
Please feel free to contact us for specific requests regarding your course.
Parola School is Specialized in Online Italian Courses
Our language center has experience in remote teaching. Parola's expert native teachers conduct their digital courses with professionalism and friendliness.
Our online Italian courses are in small groups with no more than 5 participants. 
Take a Free Trial Lesson of One of Our Online Italian Courses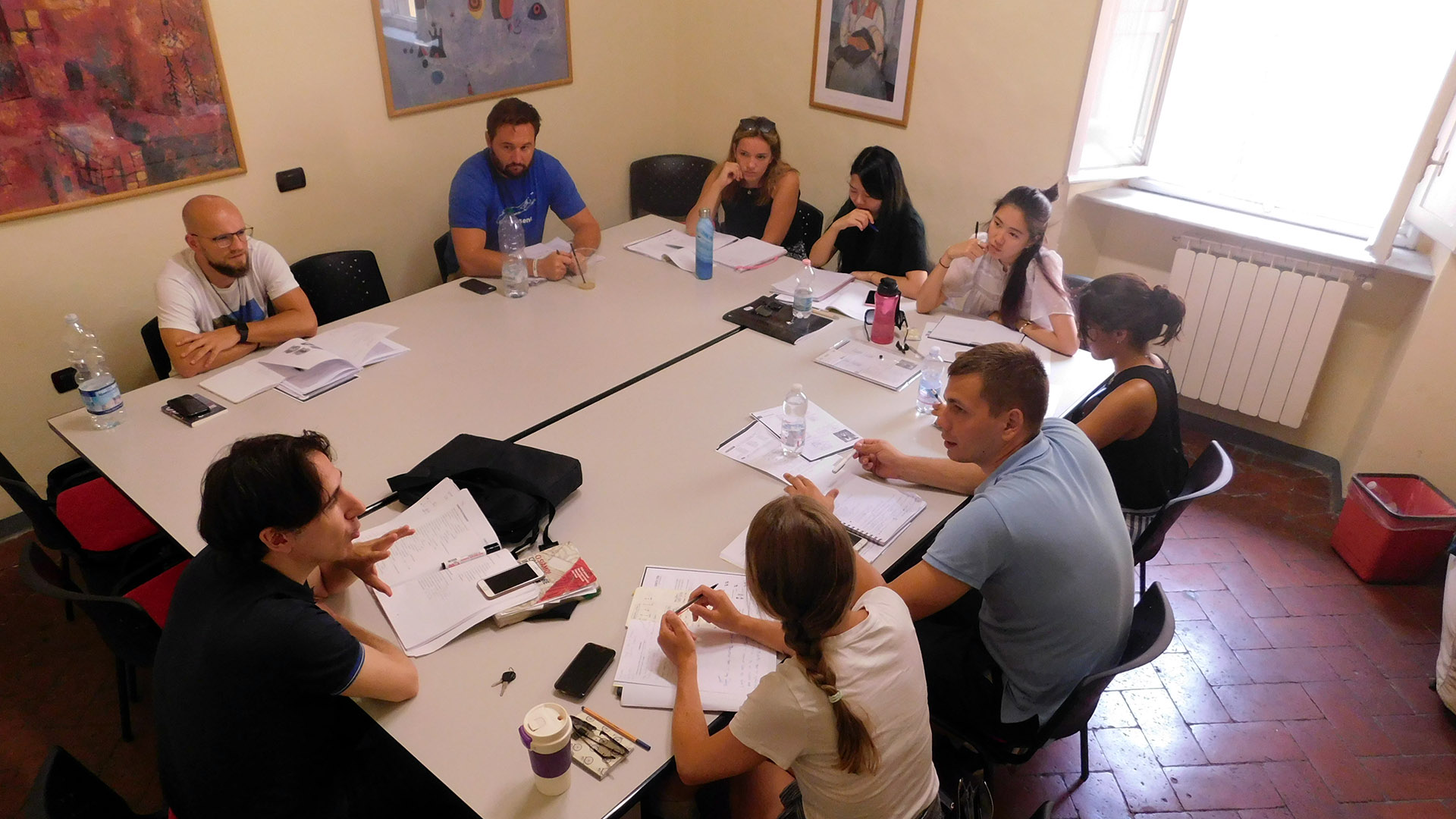 Flexibility and Variety In Our Language Programs in Florence
As mentioned, Parola school offers an excellent variety of choices for taking an Italian language course in Florence.
We provide students with educational flexibility thanks to our group language classes with teaching times ranging from 6 hours a week to 20 hours a week, for a minimum of 1 week and a maximum of 12 months.
Moreover, all our private Italian lessons can be arranged according to the student's needs by Parola's office to provide teaching flexibility. 
Our language courses are divided into 4 main learning typologies:
Group Italian language program, group lessons include an Italian grammar session and a conversation session
Individual Italian language program, one-on-one Italian language lessons with flexibility for the student
Combined Italian language programs, group Italian language class and individual lessons for intensive learning
Online Italian courses: private lessons and small group classes (max. 5 students)
In addition to our standard language courses, Parola offers paired extracurricular classes. In these combined programs, students can learn the Italian language and drawing, cooking, or art lessons.
CILS Exam and Examination Courses in Italy

Parola school is a certified center for the CILS certificate. Therefore, our language institute also provides special language programs to prepare students for the CILS examination in Italy.
The CILS exam provides an opportunity to officially evaluate the Italian language competence through grammar and oral tests assessed by the University For Foreigners of Siena. It is valid all over the world to study with the Italian language or work reasons. 
Our Italian school is also an official location for taking the CILS exam in Florence.
About Parola Italian Language Courses in Florence
The following is a general overview of the Italian language courses at Parola school. All classes are held every weekday unless otherwise specified. 
Benefits of Our Italian Language Courses
Our Italian language courses in Florence offer the following benefits to language students who have chosen Florence for their Italian language studies:
On-site classes are kept to a maximum of 12 language students but usually average between 6 -7 students
Online Italian courses with a maximum of 5 students to encourage better learning during the distance lessons
The Italian language lessons are usually held Monday through Friday, from 9 am to 1 pm with a break between 10:50 am, and 11:10 am. Upon request, in the afternoon, for small groups
All class materials are provided and included in the cost of the course
Six levels of language instruction are offered: Beginners, Intermediate I & II, Advanced I, II, & III
Parola school can combine the Italian courses with cooking, drawing, fashion and painting lessons
Free-time activities after school with students
Online Italian courses all year round, every day
Note: All our Italian language courses can cover the six levels of the Italian language grammar chart of the European Union.
A Variety of Italian Language Courses All Year-Round
At Parola school, the Italian language courses are held year-round, Monday through Friday, and are open to students of all ages.
Our Italian language institute also offers language courses in the evening for those working or studying other subjects in Florence, or for students who desire to deepen the Italian language knowledge after 6 PM. In addition to that, Parola provides online Italian courses year-round, also on Saturdays. 
We offer a wide selection of Italian language courses ranging from group Italian language classes to one-on-one classes, as well as specialized Italian courses. These courses include Italian pronunciation, Italian CILS preparation lessons, and online Italian language courses taught at our school in Florence.
Six Grammar Levels at Parola School
We offer a range of Italian language courses across six Italian grammar levels at Parola school. On average, it takes 4 weeks to complete one level of grammar in a group course. Classes can be taken for up to 12 months.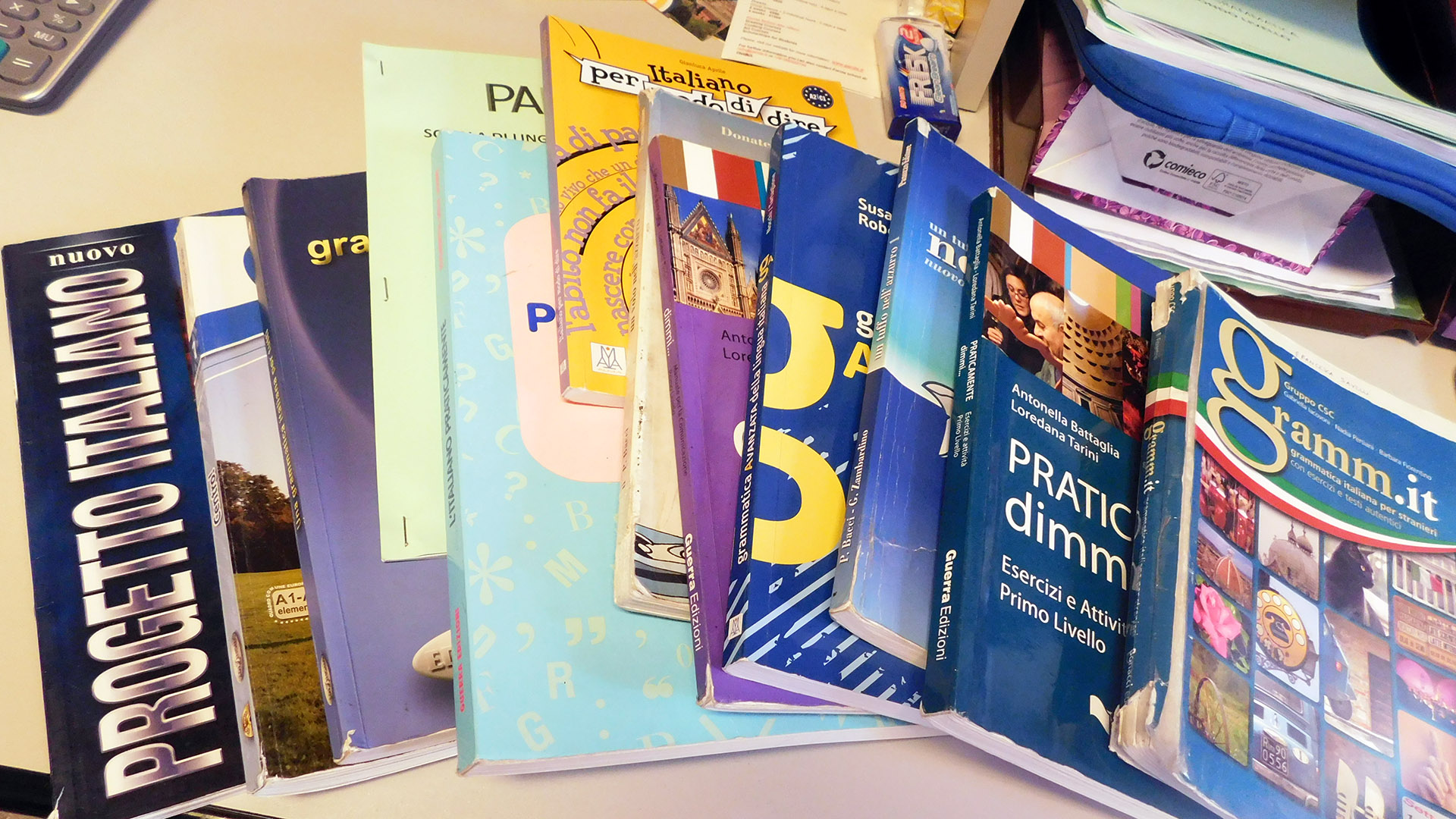 A General View of Our Italian Language Courses
Group Italian Language Courses in Florence 
Our group Italian courses are for students who prefer to learn Italian in a group setting. The benefit of group classes is that students can meet other students from around the world who are on the same Italian level.
Please note that our Italian school requires at least 3 students to form a group language class.
Individual Italian Courses in Florence
Our individual Italian courses are designed for students who wish to achieve maximum results in the shortest amount of time.
Adults or students studying other subjects in Florence may prefer to take this type of course. One-on-one lessons are also requested by students who require more excellent knowledge of the Italian language for business purposes.
Combined Italian Courses (Group Lesson + Individual lesson)
The combined Italian language courses are a match of group classes with individual lessons.
This combination allows students to take advantage of group class's benefits while focusing on their individual language needs in one-on-one sessions.
This type of instruction also improves students' Italian vocabulary and understanding.
Evening Italian Language Courses in Florence
We provide evening Italian language courses at our school headquarters in the center of Florence. Our evening language lessons are offered between 4 pm and 8: 00 pm, Monday through Friday, as determined by the student or by a group of participants.
Parola's Online Italian Courses
Our language school also offers online Italian courses for students who want to learn Italian from their own home.
Parola's online Italian lessons are a perfect way to get quality language tutoring before coming to Italy or, after your stay in Florence, to keep on studying Italian.
Above all, our Italian language institute provides engaging and versatile digital Italian courses thanks to the flexible methodology used by our expert native teachers. 
Extracurricular Courses at Parola School
Our Italian school offers supplementary courses, which focus on the cultural heritage and society of Italy.
As a matter of fact, Parola holds Italian and cooking courses, lessons on Italian politics and society, art classes, and Italian and drawing courses in the center of Florence.
These cultural courses are separate from Parola's Italian language courses and require at least 3 participants.
Note: For an individual supplementary course please contact us, as prices vary.
Au-Pair Language Courses at Parola School in Florence
Parola also offers an Italian language program for Au-Pairs in Florence and Tuscany.
Please contact our Florentine office for detailed information about our Au-Pair program in Florence at a special price.
Teaching Hours and Location of Our Language School
The Italian language courses at Parola School in Florence are held between 9:00 am and 8:00 pm. Individual Italian language lessons can be taken in the morning or in the afternoon, depending on students' needs.
Please note that our institute can not guarantee private morning courses' availability because of its group Italian classes.
Classes are all held at our school in the historic center of Florence near Piazza Santa Croce. Parola is within walking distance of all of the major sights and monuments in the city of Florence.
Italian Grammar Placement Test on the First Day 
If the language student is not an absolute beginner, there will be an informal written Italian grammar test on the first day of class.
Following the test, the Italian language student will be placed in the appropriate grammar level.
Parola school's grammar test follows the standard Italian language levels set by the European Union (CEFR).
Contact for Further Information About Our Italian Courses
Please, contact our office to receive further information about all our courses in Florence and Parola's online Italian language lessons. 
CONTACT US
Do you want some information?

  Send us an e-mail to info@parola.it

  Call us at +39 055 242182 or +39 328 8997420

  Visit us in:
Borgo Santa Croce, 17
50122 Florence
FOLLOW OUR SOCIAL NETWORKS

INFORMATION
MORE INFORMATION
DISCOVER FLORENCE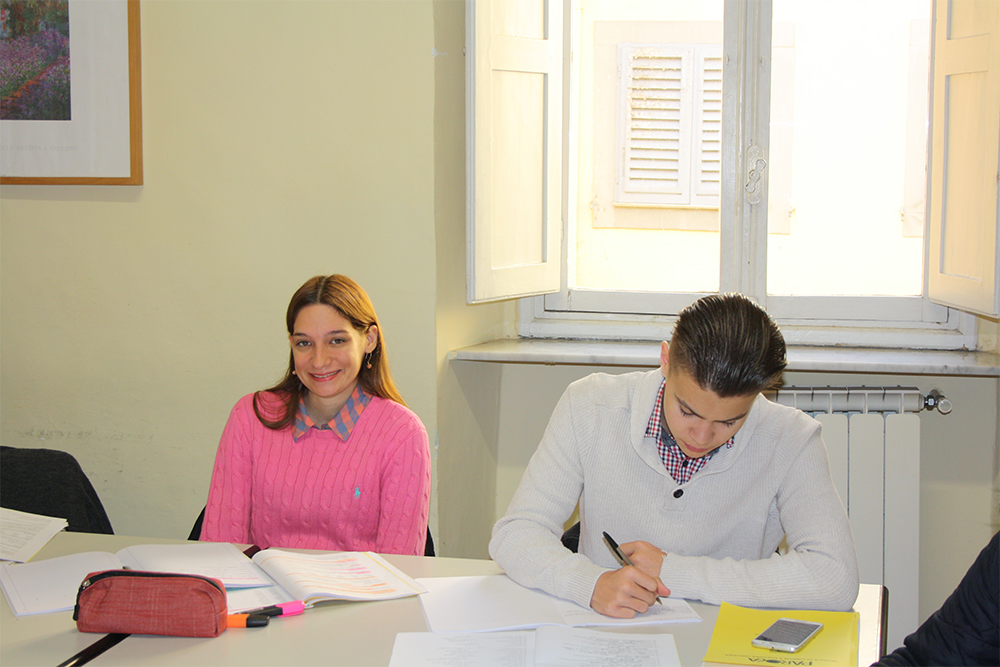 "What a nice experience! The school staff is nice and friendly, with very proactive teachers. Such a great idea to go eat Pizza or have "Aperitif" with the other students and a teacher."
"I have spent many good days at the school Parola. I worked as an Au Pair, and I found good friends during the Italian courses!"
"Efficient and available for any questions, especially when I have risked missing my airplane! Great help during my language course in Florence!"