Why Learning Italian in Florence With Parola School
Study Italian in Florence. A World-Wide Known City For Culture
Florence is centrally located in Italy, in Tuscany, which is one of the most important art and cultural regions of the country.
The city is the cradle of the arts and of the Italian language, which was born in Florence. 
The Italian language, education, arts and fashion in Florence have always been renowned in Italy and all over Europe. For this reason, nowadays, cultural institutes and international universities are present in great numbers in Florence.
Why Learn Italian in Florence?
There are many reasons to study in Florence, from the outstanding beauty of the art displayed in this city to its educational tradition. From the great number of Erasmus programs to a city that is fervid with youth culture.
Parola school provides students with all the opportunities to appreciate the immense cultural heritage that Florence can offer through its Italian language courses and free-time activities.
Three Reasons For Attending Our Italian School in Florence
There are three major reasons why everyone should learn Italian in Florence.
First of all, Florence is where the Italian language flourished thanks to Dante, Boccaccio, Petrarca, and Machiavelli who created a model for the language that would then be spoken in the Italic peninsula. Pinocchio was also written in Florence: it is a beautiful example of Italian in a fairytale which still nowadays is popular worldwide.
Second of all, there are about 30 schools of Italian in Florence, that is to say that this art and historic city is also the most relevant center in Italy to study the Italian language.
Third of all, Florence has some of the greatest museums in Italy where you can learn Italian art, the great Tuscan artists and international painting.
Great Culture and History
Florence is renowned for its culture and history since the Middle Age. However, especially during the Renaissance, painting, sculpture, and arts had an incredible flourishing with artists such as Michelangelo, Donatello, Brunelleschi, or Botticelli.
In 1982, the historic and celebrated historical center of Florence was admitted in the World Heritage Sites by the UNESCO.
Other Reasons To Study Italian in Florence
There are also other relevant reasons why you could decide to study Italian in Florence: 
You can visit all over Italy quite easily being Florence in a central position.
You can visit the other Tuscan cities thanks to a good network in the transportation systems.
There are two airports. Florence and Pisa. So you can easily visit Europe.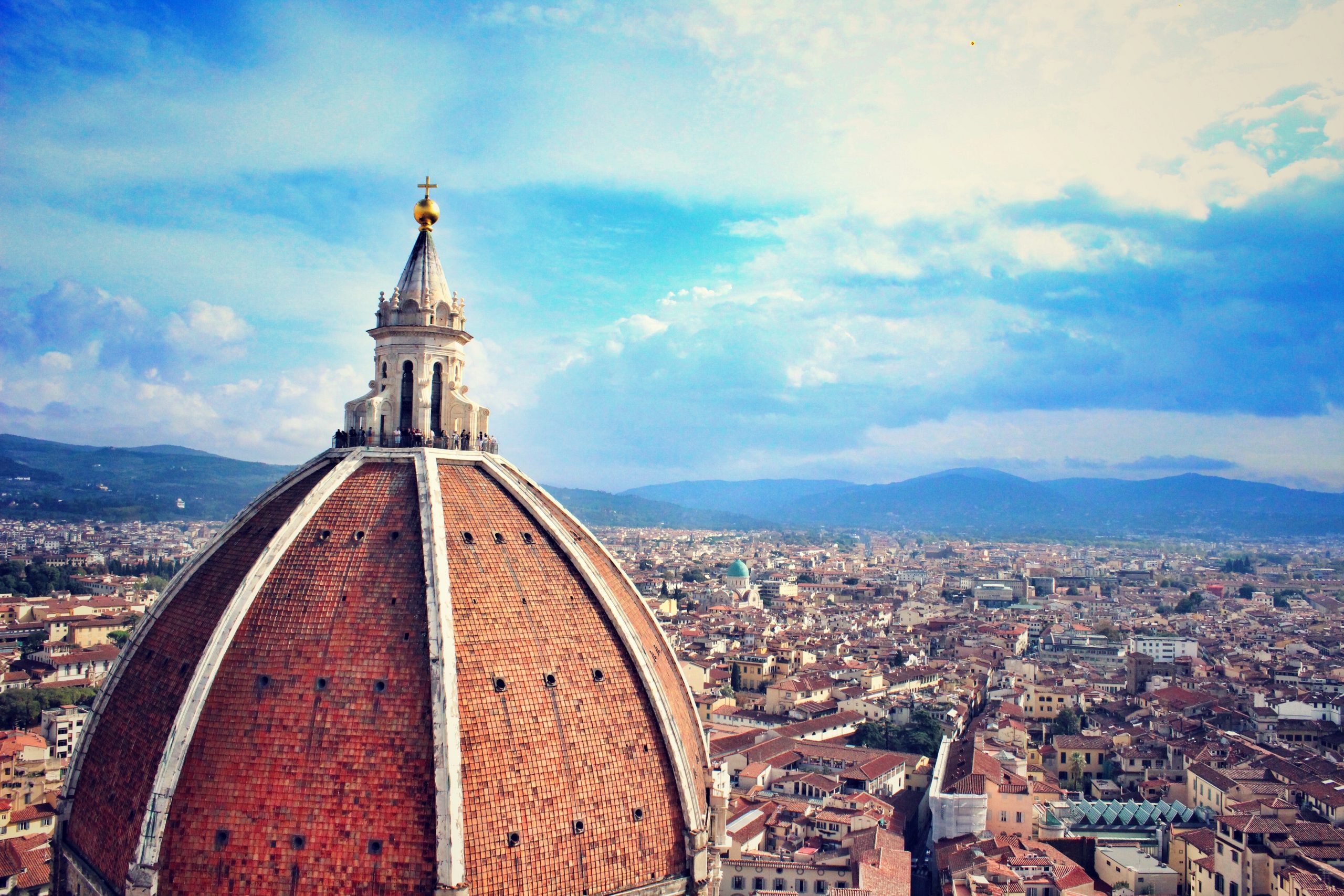 Study Italian in Contemporary Florence: Art, History and Fashion
Nowadays, Florence is one of the most visited cities in the world and a great cultural center.
As already said, Florence is a city of art and a very important capital of the fashion industry.
In addition to that, Florence offers art and culture, and it is an important European educational center with all sort of courses: from art to photography, from fashion to language.
Florence is also a city of modern events such as concerts and contemporary exhibits.
What a Student Should Absolutely See in Florence
In the center of Florence, museums, palaces, and churches have some of the greatest artworks in the world.
In the historic center of Florence, the churches of Santa Maria del Fiore – with the fantastic dome of the architect Filippo Brunelleschi – the Santa Croce Church and the church of Santa Maria Novella are outstanding art galleries and the Library of San Lorenzo is a fantastic example of Michelangelo's genius.
The largest art museum in Italy is in Florence. The Uffizi museum holds some of the most world widely known artworks of the Renaissance.
See the vast art collection in the Pitti Palace, and at the very moment you are worn out by museums, please look outdoor and discover the Boboli garden, a beautiful English garden in the heart of the city.
You can also climb to the Church of San Miniato al Monte for a very beautiful view of Florence.
Contact Parola Italian Language School to Get to Know Florence
For further information about Florence and its culture to make a great language choice, please, contact Parola Italian language school. We will be happy to give you all the information you need.
CONTACT US
For more information, contact us here!

  Send us an e-mail to info@parola.it

  Call us at +39 055 242182 or +39 328 8997420

  Visit us in:
Borgo Santa Croce, 17
50122 Florence
FOLLOW US ON SOCIAL NETWORK

INFORMATION
MORE INFORMATION
DISCOVER FLORENCE