Italian Language Courses to Au Pairs in Tuscany
Specializing in Teaching Italian to Au Pairs in Tuscany
Parola Italian language school in Florence provides its expertise to teach Italian language courses to Au Pairs in Tuscany.
Au Pairs in Tuscany are mainly composed of young foreign women, who would like to work as nannies, particularly in Florence or throughout the Florentine area.
About Our Italian Courses For Au Pairs
The standard language program for Au Pairs consists of 24 hours weekly (Italian grammar) or 48 hours weekly (grammar and conversation).
Our language courses are held at Parola's headquarters in the historic center of Florence.
Our Au Pair Italian courses are recommended to caretakers so that they may better understand and communicate in Italian with Tuscan families.
A supportive Language Course for Au Pairs in Italy
An Italian language course is very important for Au Pairs who are not native Italian speakers; the Au Pair language courses at Parola help caretakers better interact with Italian families and the children under their care in Italy.
The times and prices of our Au Pair language program are adjusted to fit the needs of the caretakers.
Documents to Work in Italy
See the necessary documents for an Au Pair job in Florence. For further information on our Italian language program for Au Pairs, call Parola Italian Language School at +39 055 242 182.
Au Pair Age Requirements in the European Union
According to the EU law, to work as an Au Pair you must be between 18 and 30 years old.
Documents For an Au Pair Job in Italy
Documents only valid in the EU
It is necessary to produce the following documents:
Valid permit of residence
Photocopy of passport
For further information regarding our Italian language courses for Au Pairs, please contact our school office in Florence.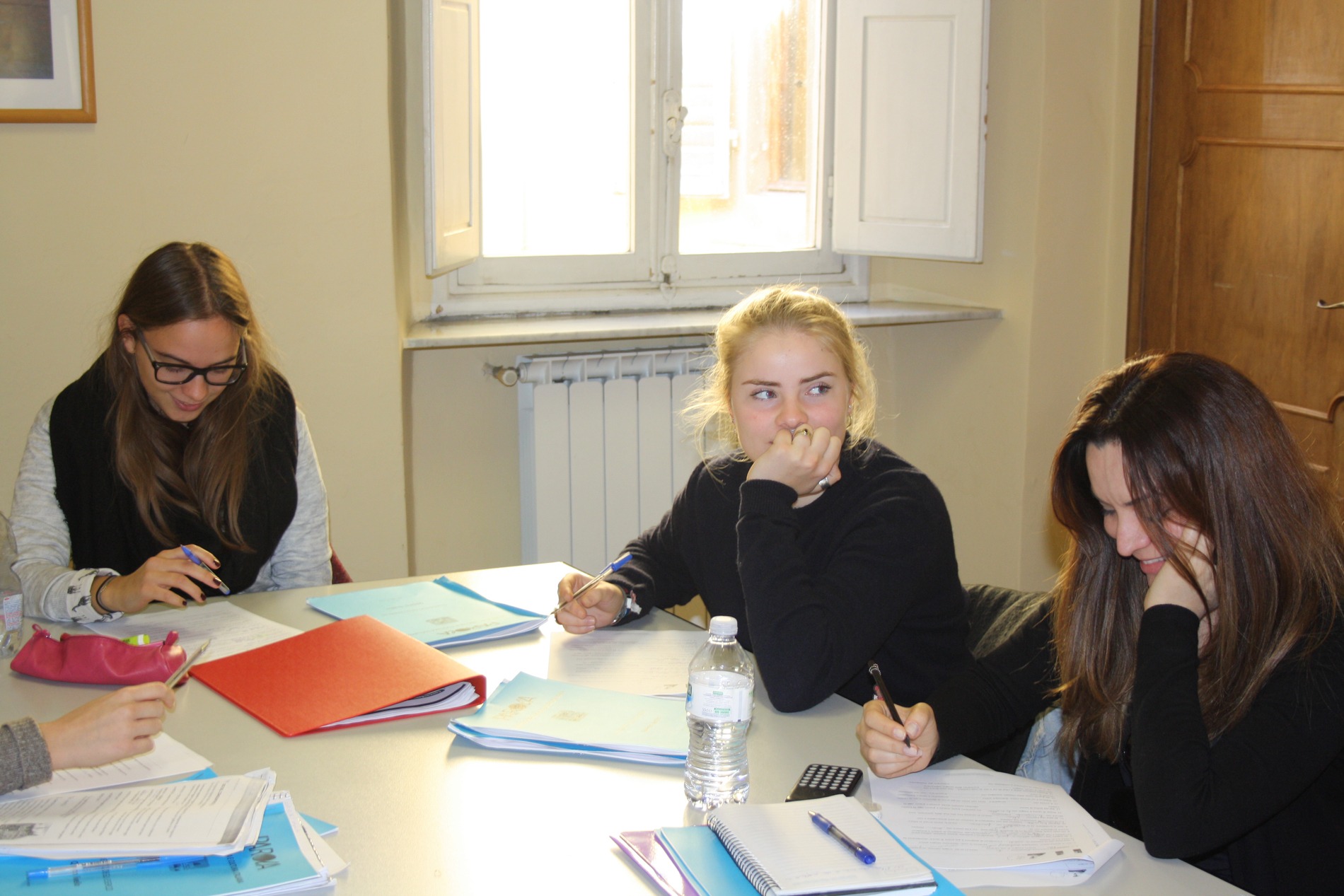 Host Families for Au Pairs in Italy
An Au Pair host-family must also regularly reside in Italy. These families usually consist of a husband, wife, and a child/children, or they can be a single-parent household.
First of all, it is mandatory that an Au Pair host-family includes at least one child that is a minor who still lives at home.
Essentially, someone who lives alone with no children cannot be considered as a host family for Au Pair students.
Our Experience With Teaching To Young Au Pairs in Tuscany
Parola school has been teaching Italian language courses to Au Pairs for more than 20 years. During this period, our language school has achieved a great experience at dealing with foreign Au Pairs who decide to take care of Italian families' children in Florence or in Tuscany.
Contact Parola Italian Language School for Language Courses to Au Pairs.
Contact our Italian language school for any further information about the special Italian language lessons to Au Pairs in Tuscany.
In Collaboration with Aupairnet24
Do you want to live abroad? Do you want to be in touch with a new culture and learn a new language?
Now you can do it thanks to Aupairnet24, an international online platform where you can register for free as an Au Pair, create your own profile and search for suitable host families in the country where you would like to live.
At Aupairnet24, you will also find plenty of tips and information about the au pair program.
Click here and register for free!

Au-Pair Course Fees at Parola Italian Language School
Our Au-Pair Italian language lessons are held at the school's headquarters from Monday to Friday. These are the prices for students who have a convention with the Euro Au-Pair Agency or Auparinet24.
24 H
Grammar on Monday, Wednesday and Friday – € 170
48 H
2 hours of Grammar + 2 hours of conversation on Monday, Wednesday and Friday – € 290
MINUETTO
5 days a week, 2 hours a day – 270 €
Au Pairs Who Want To Practice The Language
For the Au Pairs who do not have enough time in the morning because of their job, Parola Italian language school offers a course to enhance their fluency with the Italian language.
In fact, our language institute also provides conversation classes for a 2-hour duration in the morning – from 9 to 10: 50 on Tuesdays and Thursdays, which matches the standard language course for Au Pairs that is held on Mondays, Wednesdays and Fridays.
€ 255

 – Tot. 40 hours – 4 weeks – (2 hours daily) – (minuetto)
Conversation on Tuesday and Thursday
Grammar on Monday, Wednesday, and Friday
Note: each Italian grammar level has a 4 week-duration. Students' fee regards a 4-week language course.
The Six Grammar Levels of Our Language Courses
Our Italian grammar levels start from the elementary level to the advanced one.
Please, note that one month usually covers one grammar level.
Our Italian language courses for Au Pairs cover six Italian language levels so to provide students with effective Italian language programs to learn Italian in Florence.
Au-Pair students who are beginners can usually finish all Parola levels in six to seven months. We test each student on the first day of school to place them in the right language class.
Discount to Au Pairs Who Study Italian With Parola Language School
Students registered with Parola Italian language school and our affiliated agencies for Au Pairs are entitled to a discount on our Italian language courses in Florence.
The fee for an Au-Pair Italian course is 170 euros per month (plus 50 euros of the registration fee for the first month only).
Please, note that this fee is only applicable for Au Pairs who work with our affiliated agencies in Italy.
Please, feel free to contact our office in Florence, or telephone the school (+39 055 242182) for more detailed information about this kind of Italian language course.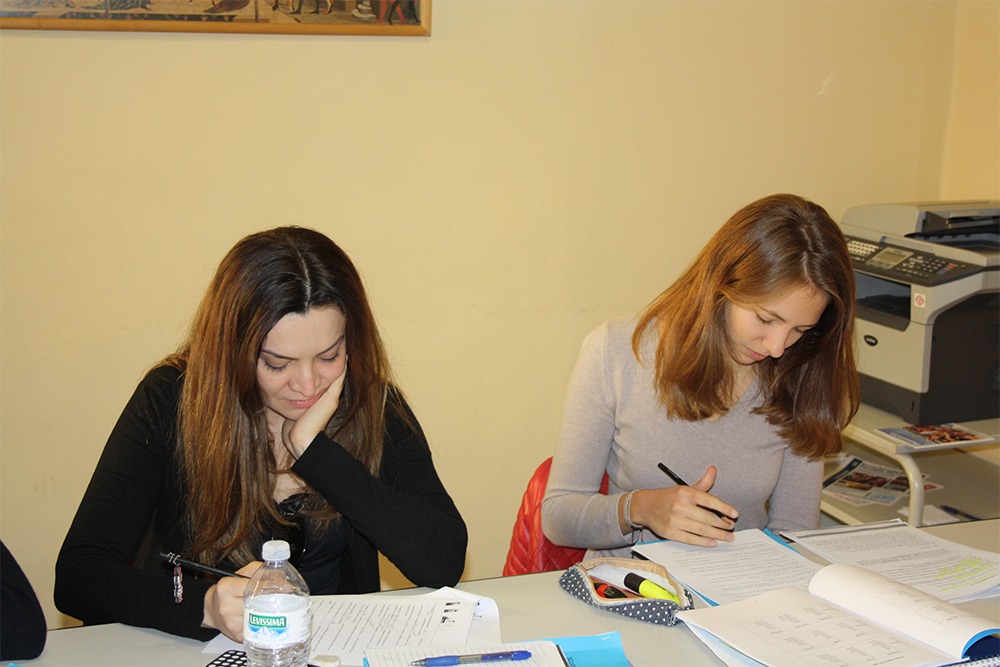 Financial Requirements For Au Pair Agencies in Italy
In order to work for an Au Pair agency (and to be applicable for a work VISA), an Au Pair must have sufficient financial resources to support themselves for their first week here and enough money to purchase a return ticket to their country of origin.
To obtain a work VISA in Italy, the following documents are required:
Completed application form for an entry visa
Recent, passport-style photo
Valid documents proving that the Au Pair is working in Italy for at least 3 months
Please note, however, that the embassy and the Italian consulate reserve the right to request further documentation and that providing all of this documentation does not ensure that one will receive an Italian work VISA.
Health Care for Au Pair Students in Italy
For information regarding the validity of health insurance from your country of origin, contact the Italian consulate in your home country. T
his is how one can obtain the Italian foreign policy regarding the validity of foreign health insurance coverage, including the duration of validity in Italy.
An Au Pair should also be aware of the risks of an incomplete registration for their permit of stay. We recommend that students update and renew their permit in order to avoid problems with the Italian law.
An Au Pair who does not have valid health insurance in Italy can apply for coverage from our National Health Service.
The documents needed to register for our school are:
Valid permission to stay / residence card
Completed application form for the Italian National Health Service
Completed enrollment form for our Italian school in Florence
A signed letter of work and residency from the host family of the Au Pair
Parola School Takes Care of Au Pairs' Needs in Florence
The Italian school Parola has always taken Au Pairs' needs into strong consideration: Parola always tries to provide social and linguistic support to Au-Pair workers who have decided to study Italian in Florence.
The Italian school Parola aim is to help Au-Pair students get familiar with Italian society. It is for this reason that Parola always has a friendly but professional approach in delivering its Italian language courses.
Our Italian language school wants students to feel at ease within their new job, their new environment and in the Italian society as well.
Our Italian courses for Nannies include some recreational activities in Florence, which are usually held when Au Pairs are off duty, on Saturdays or Sundays.
Location and Teaching Hours in The Italian Courses For Au Pairs
All the Italian language courses for Au Pairs are group Italian courses which are held at the headquarters of the school Parola, which is located in Borgo S, Croce, 4 – Florence – Italy.
6 hours of lessons per week – 2 hours on Monday, Wednesday and Friday
Total: 24 hours a month and 20 hours of extra-curricular activities in Florence
The school also runs activities for Au-Pair students, usually on Sundays
Drawing Course For Beginners (Special For Au-Pair Girls)
Parola Italian language school also organizes drawing lessons to let Au Pairs have a rewarding educational-stay in Florence while studying the Italian language.
Au Pairs can meet and learn Italian in Florence with an interesting and stimulating supplementary activity.
Parola offers a drawing course in Florence to its language students, which is at a very convenient price (80 euro for 10 hours) for a group of at least 3 participants.
Our drawing course takes place on Tuesdays and/or on Thursdays in our headquarters, but it can also be arranged with the teacher at a specific time according to Au Pairs' needs.
Contact Us for Information On Our Group Language Courses in Florence
Please, contact our Italian school office for more detailed information concerning Au-Pair Italian courses in Florence at Parola school.
For further information, you can contact us directly at this number: +39 055 242182.
Our information desk will answer any questions you may have concerning our Italian language courses to Au Pairs in Florence.
CONTACT US
Do you want some information?

   Send an e-mail to info@parola.it

   Call us at +39 055242182 or +39 328 8997420

  Meet us: Borgo Santa Croce, 4, 50122 Florence
FOLLOW US ON SOCIAL NETWORK
OUR CERTIFICATIONS



SCHOOL INFORMATION

ITALIAN GRAMMAR
FURTHER INFO
OTHER LANGUAGE COURSES
Italian in Pistoia
Italian in Montecatini