Learn Italian in Montecatini Terme with Parola
Private Italian Language Courses and Wellness Treatments
Parola Italian language school also offers individual Italian language lessons in Montecatini Terme at 40 km from Florence.
Montecatini is a World Unesco Site for the beauty of its Liberty Style Spas, its greeneries and cultural heritage that was obtained thanks to the stay of artists such as Giuseppe Verdi, Giacomo Puccini or Pierre Cardin during the last century.
Wellness with Italian Learning in Montecatini
The special feature of these language courses is the combination of Italian with wellness treatments, which the city can widely offer thanks to its numerous Spa sites.
In Montecatini Terme, our language school mostly provides one-on-one Italian language courses for students of all ages.
In some cases, it is also possible to attend small group classes.  Moreover, it is also possible to ask for online Italian courses for lessons from the comfort of your home.
In this charming spa town situated in the middle of the Tuscan countryside, about 25 miles from Florence, the student can take Italian lessons and, at the same time, enjoy the wellness treatments and the relaxing atmosphere of the location.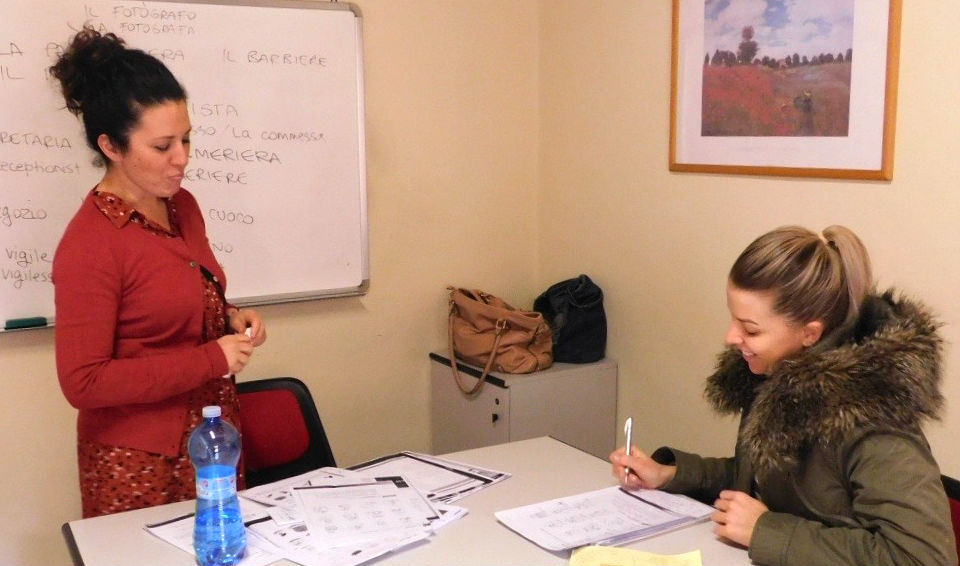 Take a Free Trial Lesson of One of Our Online Italian Courses
One-On-One Lessons and Wellness Treatments in Relax
Parola school is able to offer Italian courses in Montecatini for the student who prefers to live outside Florence and take Italian language lessons in the tranquility of a small and beautiful town.
After or before the Italian language lessons, it is possible to choose a package of wellness treatments in an excellent hotel in the city center of Montecatini. Including Saunas, Relax area, Turkish bath, emotional Shower, and 3 warm swimming pools with water massages.
Our one-on-one language lessons are particularly tailored to the needs of the student, providing appropriate flexibility in training and course length.
Cost of a Standard Wellness Treatment After The Italian Course
The price for a wellness center 90 minute-session is 25 euros.
The health treatments can be arranged either in the morning or in the afternoon. There are also other types of treatment that can done after the language courses, and the student can decide about them after receiving good suggestions from the hotel staff.
Relaxing Places in Our Individual Italian lessons in Montecatini
Joining this language program allows the student to enjoy the beauty and tranquility of Montecatini Terme by studying Italian abroad in this renowned Italian spa town. And more than that, for those who would like to, there is a very good selection of opportunities for beauty and health treatments such as massages, saunas, face treatments, inhalations, hot swimming pools.
In the relaxing and pleasant atmosphere of Montecatini, students learn Italian in serene surroundings and are able to connect with locals as Montecatini has retained the welcoming hospitality of a small town.
Location of Our Italian Language Lessons
Parola does have a headquarters in Montecatini Terme, our Italian lessons can be taken at various locations, the student's home or in the student's hotel.
The lessons are generally taught from 10 am to 12 pm, but Parola guarantees flexibility to its language students and is able to organize the lessons according to the student's needs.
Prices of Small Group and Private Italian Courses in Montecatini
All individual Italian language courses in Montecatini are designed to last either 1 or 2 weeks. However, Parola school can also arrange individual courses for more than 2 weeks upon request.
Note: the cost per hour of our individual Italian language courses in Montecatini is 40 euro.
Italian Course "Piano" – 2 hours per day – 1 week € 400
Italian Course "Piano"  – 2 hours per day – 2 weeks € 720
Group Language Lessons in Montecatini
Our individual Italian courses in Montecatini are typically organized as primarily light classes for adults on vacation in this spa town. However, Parola can also organize a group Italian language course in Montecatini for a minimum of 3 people.
Please, contact the Parola Italian language school in Florence for information, dates, and fees of group language courses in Montecatini Terme.
Starting Dates of The Language Courses in Montecatini
Classes of Italian in Montecatini are available to start every Monday. The wellness center appointment can be arranged by our office in Florence.
Location and History of Montecatini Terme
Montecatini Terme is a spa town in Tuscany with a population of around 20,000 people. Montecatini Terme is able to accommodate approximately 100,000 tourists every year in its renowned spas due to its central location in Tuscany.
The strategic location of Montecatini Terme allows tourists to visit the many beautiful cities of Tuscany such as Florence, Pisa or Siena, all of which are a short drive from this tranquil, spa setting.
Montecatini Terme actually dates back to Roman times but first appears in records beginning in 716 AD.
In 1164, the village was autonomous, although it would shortly fall to its nearby rival, Lucca. Later, in the 14th century, the castle of Montecatini, Montecatini Alto, was besieged during the war between Florence and Pisa.
Montecatini Terme is famous for its baths, which were constructed originally in 1540. In the 18th century, the first resorts were constructed which transformed the town into one of the most popular and elegant spa destinations in Italy.
Great musicians and artists such as Verdi, Puccini, and Marinetti, often took relaxing vacations in Montecatini Terme.
Why Montecatini Terme For an Italian Language Program?
In Montecatini Terme, as well as the province of Pistoia as a whole, you can find a fascinating environment full of beautiful greenery and public parks.
Adult students find it to be an excellent location to enjoy relaxation and tranquility while learning the Italian language. Moreover, local people in Montecatini are friendly and open to conversation with foreign language students.
Montecatini Terme's Strategic Location in Tuscany
Montecatini Terme is perfectly located in Tuscany – in the North-West corner of Tuscany, close to the easy transportation options that invite students to explore all of Tuscany. Parola Italian language school also assists students to arrange services they may need during their stay in Tuscany to make sure students take full advantage of all that Tuscany offers to visitors.
Parola also is able to assist in arranging transportation from the Peretola Airport in Florence to Montecatini Terme.
Contact Parola School For Italian Language Courses in Montecatini Terme
To register for an Italian language course in Montecatini Terme or to ask any questions concerning our Italian language courses in Montecatini Terme, contact our office in Florence.
CONTACT US
Do you want some information?

   Send an e-mail to info@parola.it

   Call us at +39 055242182 or +39 328 8997420

  Meet us:

INFORMATION
MORE INFORMATION
DISCOVER FLORENCE