Individual Italian Language Courses in Florence
Flexible and Effective Private Italian Language Lessons
Consider learning Italian at your own pace and with flexible learning time with Parola school. An individual Italian language course in Florence is the best way to quickly and intensively learn both written and oral Italian at an affordable course price and with a ductile training time.
At Parola, our private Italian lessons in Florence are tailored to each student's specific needs; many students choose to take private Italian lessons for both business purposes and personal interests.
Students who have taken a one-on-one Italian language course at Parola have expressed that this personalized instruction has significantly improved their Italian language knowledge.
The Benefits of Our One-on-One Italian Language Classes at Parola Include:
Custom-designed lesson plans to fit the demands of the individual Italian language student
Flexibility in the language program and focused attention during lessons
Individual language courses yield the greatest results in the shortest amount of time
Students can start their Italian course any day of the week
Students can take lessons at a time that fits their schedule, as one-on-one lessons are available from 9 am to 8:30 pm
Learn Grammar and Improve Language Fluency
Our private Italian language lessons are an excellent option for learning Italian grammar and improving language fluency and pronunciation in a short amount of time.
For many students, private tutoring is essential to aid comprehension, learn the grammar rules, and increase spoken fluency. Besides that, these lessons are especially beneficial to students who do not already speak a language derived from Latin.
Contact us to Set up a Personalized Private Italian Lesson
Please contact Parola Italian language school to let us know your specific language goals or requirements (i.e. improving your grammar or Italian conversation, etc.).
We will then select a teacher who would best meet your language needs and formulate a personalized schedule for your private Italian language course.
One-on-one lessons can include various topics, such as business vocabulary, speaking fluency, or the fundamental rules of Italian grammar.
Weekly Prices For Our Private Italian Language Courses
All of the prices for the individual Italian language courses listed below are based on a weekly basis.
Notturno
3 hours / week – 90 € per week
Pianissimo
1 hour/ day – 150 € per week
Piano
2 hour/ day – 300 € per week
Maestoso
4 hour/ day – 600 € per week
Con brio
6 hour/ day – 850 € per week (lunch not included)
Con brio 1
6 hour/ day – 1150 € per week (including lunch per week)
Prestissimo
8 hour/ day – 1160 € per week (per week 

lunch not included

)
Prestissimo 1
8 hour/ day – 1600 € per week (

including lunch

 per week)
Discounts on Our Individual Italian Language Courses
The following are special discounts for students who decide to enroll in a one-on-one Italian language course in Florence:
10% discount for a 4 week-course that lasts at least 4 hours per day
15% discount for an 8 week-course that lasts at least 4 hours a day
Contact Parola Italian language school to receive further information about prices, discounts and arrangements for private Italian language courses in Florence.
Private Italian Language Courses Taught by the Same Instructor
Students enrolled in individual Italian language courses at Parola have the advantage of choosing a single instructor or multiple private Italian teachers, each of whom follows the student's progress individually.
Parola's Italian language instructors focus on Italian grammar, pronunciation, and fluency in order to provide an all-encompassing Italian language program tailored to the specific needs of the individual student.
Benefits For Business People
In particular, business people find one-on-one Italian classes useful and effective, as they benefit from the personalization of the Italian vocabulary and pronunciation used in their individual lessons.
Students generally feel at ease since they practice their grammar and pronunciation privately with their instructors, which leads to excellent learning results in a short amount of time.
Contact us for further information about our one-on-one Italian language courses in Florence.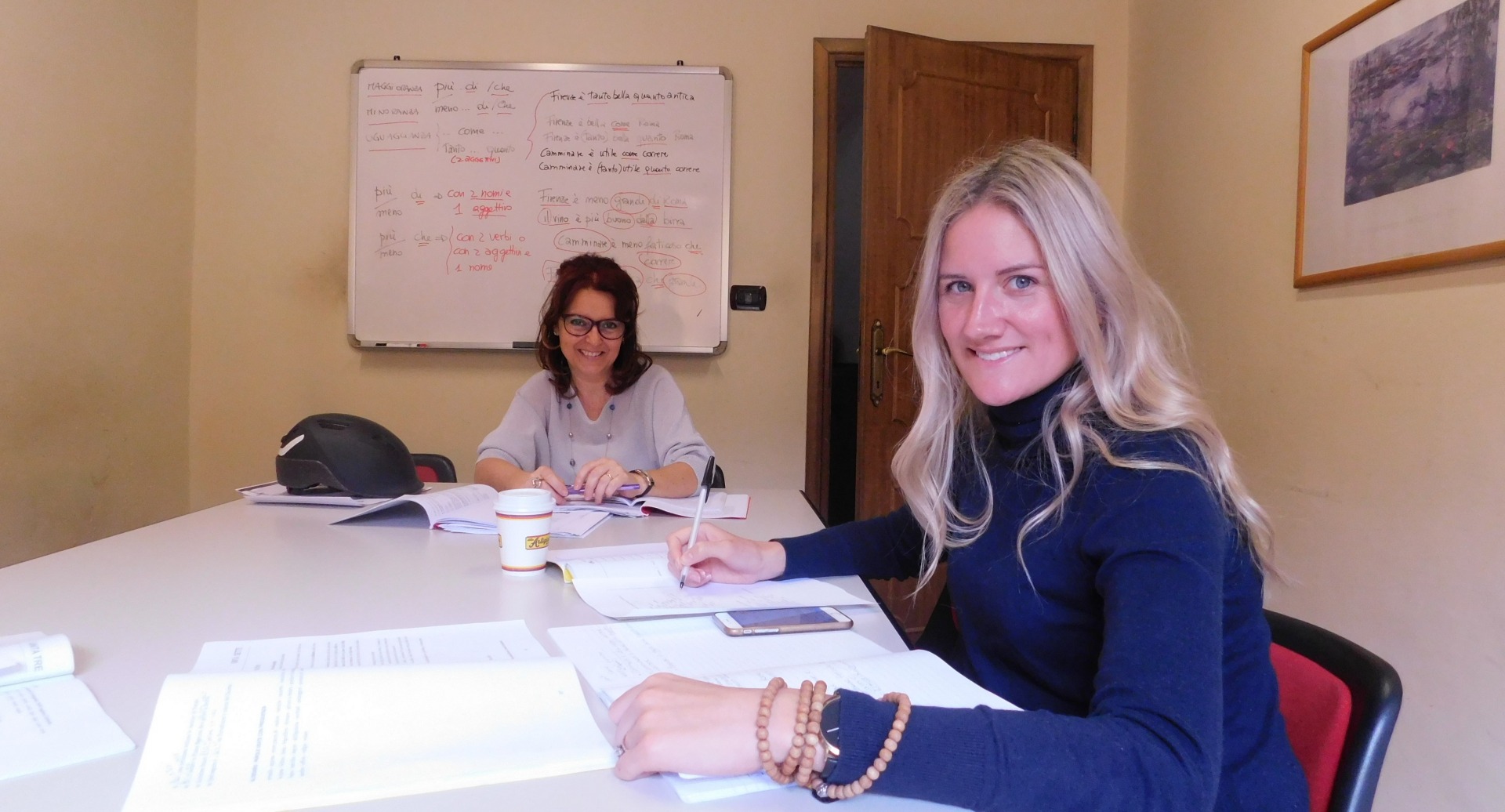 Advantages of an Individual Italian Language Course at Parola
Taking a one-on-one Italian course provides the following advantages for students:
A personalized Italian language course has the benefit of flexibility and proven results. Our one-on-one Italian language lessons at Parola are generally more focused, proficient and personally engaging for the student
Our one-on-one Italian language program is an excellent option for people working with Italians and in Italian business
An individual Italian course is also an excellent way to focus on Italian pronunciation and fill any gaps in the student's grammatical knowledge. The hours of daily instruction and duration of the language program are determined by the student in conjunction with Parola Italian language school
All of the elements of an individual Italian course at Parola are decided by taking into consideration the specific linguistic needs of the Italian language student
Individual Italian Language Courses in Montecatini Terme
Parola Italian language school also runs an individual Italian language program in Montecatini Terme, where private Italian lessons are held in a hotel lounge or at the student's home.
Montecatini Terme is a quaint and relaxing town, with specifically tailored Italian language courses for adults. However, language courses in Montecatini are available for students of all ages.
Please note that the Italian courses in Montecatini are only one-on-one lessons, privately taught by one of Parola's certified instructors.
Car Parking for Students Taking Individual Lessons at Parola Italian Language School
Parola school provides convenient car parking for students who are enrolled in our private Italian language program for more than 2 weeks.
Please, contact our language school in Florence for further information.
Contact Us for Information On Our Individual Language Courses in Florence
For further information about our individual Italian language lessons, please contact our Italian school in Florence; we will be certain to reply promptly.
CONTACT US
Do you want some information?
   Send an e-mail to info@parola.it
   Call us at +39 055242182 or +39 328 8997420
  Meet us: Borgo Santa Croce, 4, 50122 Florence
FOLLOW US ON SOCIAL NETWORK
OUR CERTIFICATIONS
SCHOOL INFORMATION

FURTHER INFO