Learn Italian Online with Parola School
Strengthen The Italian Language with Skype or FaceTime 
If you are not able to attend an Italian language course at our headquarters of Florence, consider using Skype or FaceTime to have online language experience.
Parola school also offers language courses to study Italian grammar and practice conversation through online Italian language lessons from its headquarters in Florence.
Convenient Prices With Professional Teachers
Online Italian language lessons are held via Skype or FaceTime and are offered at convenient prices.
These private language sessions are taught by one of Parola's Italian language teachers from the school's headquarters in Florence.
Our online language teachers have experience and competence in teaching Italian grammar and conversation both in the classroom and through Skype or FaceTime.
How Can I Take an Online Language Lesson With Parola?
Learning Italian online is easy thanks to the use of Skype or FaceTime, which can be downloaded for free on the internet.
Students can converse online with Italian language teachers and make use of other visual devices such as text, videos, and pictures.
CILS Preparation Program Online
Parola School also offers an online preparation course for foreign students who need to learn Italian to pass the official CILS exam.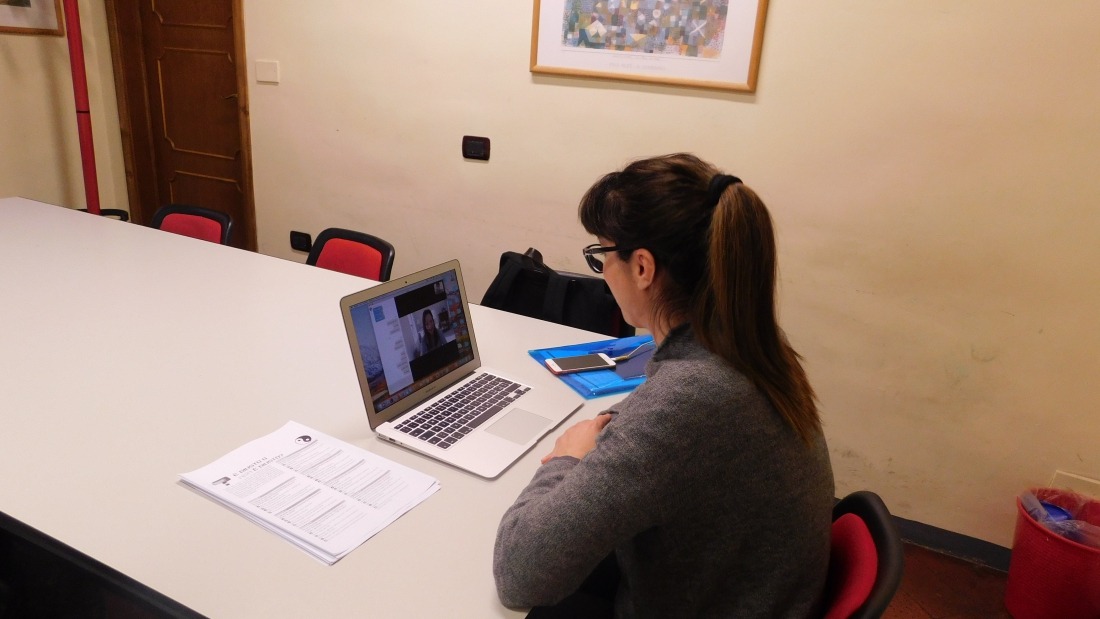 Effective Results With Our Online Language Lessons
Achieve the following results with online Italian lessons via Skype or FaceTime through Parola Italian Language School: 
Vocabulary improvement through the use of Microsoft Word, PDF documents and digital images
Increased ability to hold a conversation through spoken and visual communication
Support through various Multimedia devices such as YouTube, musical support, and videos
Ability to maintain Italian language fluency from home
Ability to focus on individual areas of language training with absolute flexibility
See the prices for the online language lessons of Parola Italian language school.
How to Begin Italian Language Lessons Online
Starting an Italian language lesson online is easy:
The Italian language student should make an appointment (time and date) with one of our Italian language teachers by contacting us via Skype or e-mail
During the appointment, one of the Italian language teachers will arrange the online course from Florence
After the course payment is made, the student can begin the online Italian language course according to the appointments arranged with Parola's teacher
Who Can Benefit From Our Online Italian Language Lessons?
Our online Italian language lessons are useful for students interested in learning and practicing the Italian language with a native speaker from the comfort of their home country.
These lessons are also useful for business people who wish to achieve effective results from their home or office. 
Prices For Individual Italian Language Lessons Via Skype
The course fee for our Skype lesson is 27 euros per hour (60 minutes). If the student buys a ten-hour package, they will  recieve a discounted price on our course:
package of 10 hours for 260 euro (10% discount)
package of 20 hours for 480 euro (15% discount)
Payment For Our On-Line Italian Language Lessons
Our Italian language school accepts payment via PayPal (Our desk will give you instructions in case you decide to pay this way) or via bank transfer at this address:
UNICREDIT BANCA
PAROLA
ABI: 02008 – CAB: 02817
Swift Code | BIC Code: UNCRITM1F15
IBAN Code: IT 07 W 02008 02817 000041268236
Find Us On Skype
Parola School's name to access Skype and learn Italian online is : ILCIONI.
Important Note About The Online Signal
It is essential that the student has a sufficient internet connection during the Skype appointment. In case the connection signal is not sufficient and Parola's signal is found not to be responsible, the student must still pay for the lesson.
Contact Parola Italian Language School
For further information regarding the online Italian language courses, please, contact Parola Italian Language Institute or call us at +39 055 242182 at our head office in Florence.
CONTACT US
Do you want some information?

   Send an e-mail to info@parola.it

   Call us at +39 055242182 or +39 328 8997420

  Meet us: Borgo Santa Croce, 4, 50122 Florence
FOLLOW US ON SOCIAL NETWORK